Venezuela on the campaign trail: "President Chavez, only second to God"
Wednesday, June 27th 2012 - 08:48 UTC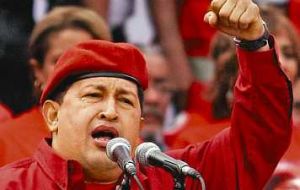 Political ads exalting Venezuela's populist President Hugo Chávez as second only to God have offended opponents and added further controversy to an already spicy presidential election campaign.
State TV is repeatedly playing a minute-long publicity spot highlighting the story of Andrés Ospino, who was granted a new home for his family by a state building program. (To view the ad, click on bit.ly/O5YTuh )
"I have a saying: 'First God, second my Comandante'" waxes Ospino in his new apartment after a moody opening sequence of dawn breaking over Caracas. He also calls Chávez "this Bolivar," in reference to 19th century South American independence hero Simón Bolivar.
The publicity goes to the heart of Chávez's push for re-election on October 7. The campaign is built around his personality and depends heavily on the government's popular welfare policies that are paid for by oil revenue.
While the promise of a new home is a vote-winner among Venezuela's poor majority, opponents scoff at it as crass electioneering and say the quasi-religious adulation of Chavez is offensive in a Roman Catholic nation.
"It's a vulgar copy of what they did in the Soviet Union under Stalin, of what they still do in Communist Cuba and North Korea," wrote columnist Geronimo Figueroa in a provincial Venezuelan newspaper.
The charismatic 57-year-old former soldier, who has dominated the Venezuelan nation since assuming office in 1999, will face a single opposition "unity" candidate, Henrique Capriles, in the election.
However there are still many uncertainties about the health condition of Chavez who was twice operated for a tumour in Cuba, where he spent long periods of recovery, and has to regularly undergo chemotherapy treatment.