Argentina insists with 5.1% growth forecast for 2012 despite signs to the contrary
Friday, June 29th 2012 - 05:21 UTC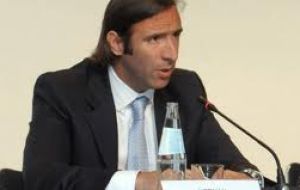 Argentina's government is sticking to its 5.1% growth forecast for 2012 enshrined in the budget, Economy Minister Hernan Lorenzino said on Thursday, despite recent data that shows a sharp deceleration.
Latin America's third strongest economy expanded 8.9% in 2011 but growth is slowing sharply due to sluggish global conditions, slackening demand from top trade partner, Brazil, and the impact of high inflation at home.
"We continue to maintain the projections that are contained in the budget," Lorenzino told a news conference. "We're tracking each variable of the economy to try to find any problem that could arise, face up to it, make the decisions needed and resolve it."
Lorenzino said recently unveiled programs to promote loans to homeowners and retirees were part of a government drive to "maintain our economy's dynamic through consumer spending, the domestic market, and job creation."
Argentina's May industrial production fell 4.6% year-on-year, marking the second-biggest monthly decline since September 2002, when the economy was deep in recession.
Government data also showed economic activity ground to a virtual standstill in April on the heels of a first quarter in which growth cooled off.
The minister held the press conference to announce 1 billion pesos (221 million dollars) in financial assistance for Buenos Aires province, which is facing difficulties paying public employees' salaries.