China offers 15 billion dollars for infrastructure and better trade terms with Latin America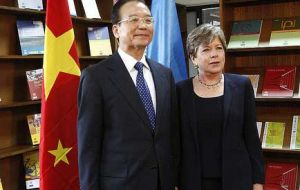 China has offered to set up a 10 billion dollars credit line for Latin American countries to support infrastructure projects in the region. The proposal was made by China's Premier Wen Jiabao as he wrapped up his visit to the region with a conference at the UN Economic Commission for Latin America and Caribbean, ECLAC, main offices in Santiago de Chile.
"The Chinese government... will continue to offer economic assistance to countries in the region that are interested," Premier Wen said adding that China is also considering the possibility of negotiating and signing agreements for local currency swap agreements... and increasing the reciprocal creation of bank branches"
China, which has the world's largest foreign exchange reserves, has been looking for new areas to invest some of its cash. At the same time, China's infrastructure development companies have been keen to tap into new markets to expand their business.
Analysts said that the offer of a credit line by China may turn out to be a win-win situation for both sides. They explained that Latin American nations could benefit from Beijing's expertise, while Chinese firms may play a big role in developments of these projects.
Wen also proposed the creation of a China-Latin America cooperation forum and the establishment of a regular dialogue mechanism with the troika of Foreign Ministers from the Community of Latin American and Caribbean States (CELAC), with a first meeting due to be held during 2012.
In his ECLAC speech the Chinese Premier put forward concrete proposals for cooperation in areas such as food security, innovation, science and technology and sustainable development.
He then announced the creation of a cooperation fund with an initial contribution of 5 billion dollars to promote the development of manufacturing plus a 10billion dollars credit line to boost infrastructure cooperation through the Bank of China.
The conference by Wen referred to "China and Latin America and the Caribbean: dialogue and cooperation for the new challenges of the global economy"
"We have to combat trade protectionism, broaden the mutual openness of our markets, optimize the trade structure and diversify cooperation in terms of customs and quality control," Premier Wen said.
However the Chinese Premier also admitted that bilateral trade with the region is misbalanced with Beijing sending mostly manufactured goods while Latin America an d the Caribbean export mainly raw materials.
"This reduces the potential for possible Chinese-Latin American business partnerships, and hampers a more effective integration of the region's countries into the production chains of Asia-Pacific".
In the region only four countries posted modest surpluses with China last year: Brazil, Chile, Venezuela and Peru.
"China does not seek to have a trade surplus, but rather a balanced trade with the region by increasing future imports of products with greater added value from Latin America and the Caribbean. We expect the volume trade to reach 400 billion dollars in the next five years", said Wen.