Former impeached Brazilian president argues the "process in Paraguay was legal"
Friday, June 29th 2012 - 06:19 UTC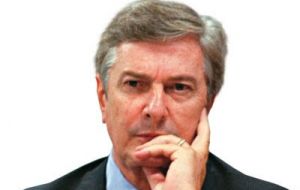 The removal of Fernando Lugo from the Paraguayan Executive office was legal, said Brazilian former president and Senator Fernando Collor, quoted by O'Globo. He insisted there was "no coup".
The former president said that "suspending Paraguay from Mercosur and Unasur only extends the Paraguayan crisis situation to the continent plus contributing to its radicalization".
He was addressing Congress in Brasilia and arguing against those who condemn the impeachment of the former Paraguayan head of state.
"We must not speak of coup, we must not use that word" said Collor insisting that the Paraguayan constitution does not detail the impeachment process, and thus the swiftness with which it was applied can't be considered "illegal".
The former president strongly criticized Brazilian diplomacy and said that the situation in Paraguay was a "domestic issue".
"Maybe the Brazilian government was taken by surprise" said Collor questioning the Brazilian embassy in Asuncion for not been sufficiently informed about the evolution of events so that they could have influenced on decisions "before it was too late".
Collor took office in 1990 and stepped down as president of Brazil in 1992 after an impeachment process was brought against him on charges of corruption. He was the first president directly elected by the people after the end of the Brazilian military government (1964/1985).
After his resignation from the presidency, the impeachment trial, on charges of corruption, continued, and Collor was found guilty by the Senate and sentenced to disqualification from holding elected office for eight years (1992–2000).
Collor was later acquitted of ordinary criminal charges in his judicial trial before Brazil's Supreme Federal Tribunal, for lack of valid evidence. After the end of his period of disqualification, Collor was elected a Senator of the Republic in the 2006 general election and began his term in February 2007.
Collor was succeeded in office according to a process clearly determined in the constitution by his Vice president Itamar Franco.