Rousseff unveils 55bn dollars in loans at lower rates for the 2012/13 farm season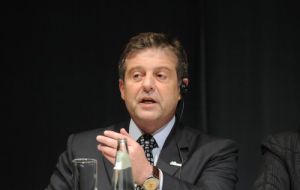 Brazilian president Dilma Rousseff has unveiled a 115-billion-Reais (55 billion dollars) loan program aimed at reinforcing agriculture's role as a lever of Brazilian economic growth.
Rousseff defined the plan for the 2012/2013 season as "a new tool against the global crisis" that will underpin the government's efforts to create employment and mitigate the effects of economic turmoil abroad.
"This plan will show that Brazil is one of the few countries that can create new jobs amid the very serious sovereign debt crisis affecting the world," she said during the ceremony on Thursday at the Planalto presidential palace, describing agriculture as a strategic sector.
Rousseff said the public and private loans, which represent a 7.5% increase over the 2011-12 season, will spur increased productivity while safeguarding protected ecosystems because "growth is not and cannot be incompatible with environmental preservation".
"I can proudly say that Brazil is a country that produces, expands its production, uses technology and does so with full respect for the environment," Rousseff said, adding that the new plan will be guided by the precept "living earth and respected nature".
Agriculture Minister Jorge Mendes Ribeiro said that nearly 60% of the plan's funds would be allocated to finance programs to improve distribution chains and market products.
Special attention will be paid to family farming, which currently accounts for nearly 70% of the country's food production.
The interest on the loans, meanwhile, will fall from 6.5% in the previous agricultural season to 5.5% in 2012-13.
The government's plans have received the backing of the National Agriculture Confederation, whose president, Katia Abreu, said the initiative will strengthen Brazil's role as a key global breadbasket.
"Our markets are China, Europe and many other nations where Brazil will be able to sell its output without failing to meet domestic demand," Abreu said in the ceremony, adding that by 2050 "most of the world's countries will be consuming Brazilian food.