Mercosur agrees info exchange on hydrocarbons naval traffic to the Falklands
Saturday, June 30th 2012 - 05:05 UTC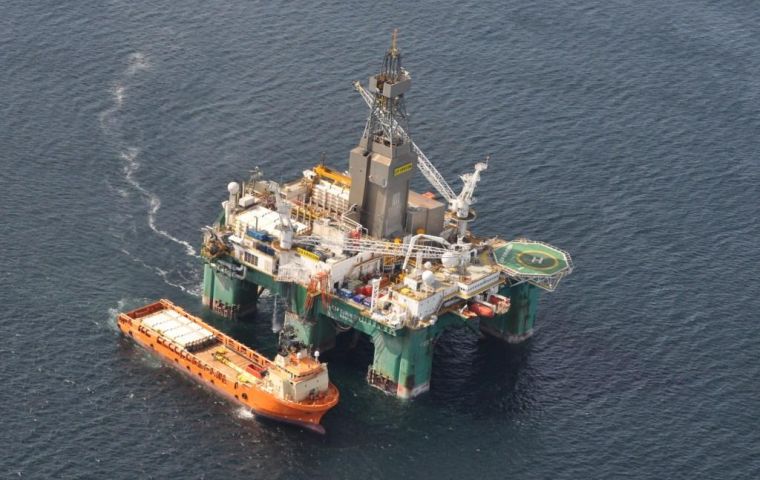 Mercosur agreed at the Mendoza summit to exchange information on ships and other "naval artefacts" involved in hydrocarbons activities with routes that include the Falklands/Malvinas Islands over which Argentina claims sovereignty.
At the summit it was also agreed besides information exchange, "to adopt measures susceptible to be regulated to impede the access of ships or 'naval artefacts' flying the illegal flag of the Islands" to the ports of the countries that make up the block.
The statement is one of several on different issues subscribed by Mercosur full members and associates released on Friday at the end of the summit.
"The presidents of Mercosur and associate member states declare their commitment to exchange available information on ships and 'naval artefacts' with routes that include the Malvinas, South Georgia and South Sandwich Islands with cargo destined to hydrocarbons and/or illegal mining activities on the Argentine continental platform", reads the resolution.
Members present at the Mendoza Mercosur summit and Unasur extraordinary meeting included: Argentina's Cristina Fernandez, host of the event; Brazil's Dilma Rousseff; Uruguay's Jose Mujica; and associates from Peru, Ollanta Humala; Evo Morales from Bolivia; Sebastian Piñera, Chile and Rafael Correa from Ecuador. Venezuela's Foreign Minister Nicolas Maduro represented President Hugo Chavez.
The leaders also renewed their support for Argentina's sovereignty claim over the Malvinas Islands, a British Overseas Territory.