Mercosur doubles list of goods that can have tariffs raised unilaterally 35% by each member
Saturday, June 30th 2012 - 05:39 UTC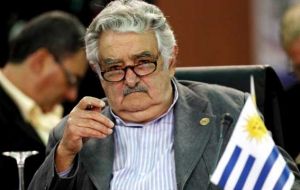 Mercosur rejected an Argentine proposal to raise imports tariffs on all goods from outer zone to protect local industries, but accepted Brazil's initiative to raise tariffs unilaterally on 200 goods, up from 100 agreed last December.
According to Uruguay's presidential website, Mercosur officials meeting in Mendoza, Argentina in the framework of the twice a year summit agreed to let each country manage with flexibility the 200 goods list on which the maximum rate of 35% can be applied.
"What was agreed doesn't mean a change in the outer zone common tariff system" said Alvaro Ons, General Director for Integration and Mercosur from Uruguay's Foreign Affairs ministry. He added "it will be a decision from each country, depending on each country's own interest".
Argentina and Brazil with slowing activity and stimuli programs for their economies are particularly interested in including in the 200 list capital goods.
The Uruguayan government on the other hand (and suspended Paraguay) with considerably smaller economies are in the opposite position and want to further open their trade and investment opportunities.
Raising tariffs "only hurts Uruguay's possibilities of development and affects negatively competitiveness", said President Mujica on arriving at the summit in Mendoza.
Uruguay has also pushed for greater flexibility in trade and economic links under a system of "partial windows" targeted to Latin American countries in specific trade areas. Mercosur members are barred from bilateral agreements with outer zone countries unless there is a unanimous support.
"We need an intelligent policy to help us build bridges and finalize pending agreements such as those with the European Union, the Andean Community, Indonesia, China, the Asian continent", said Mujica.
The decision on doubling the list was taken by Mercosur full members Argentina, Uruguay and Brazil as Paraguay, which also belongs to the bloc was banned from participating after Congress last week impeached Fernando Lugo as president and replaced him with Vice President Federico Franco.
These measures are in addition to those agreed bilaterally between Mercosur two main partners, Argentina and Brazil that have pledged to eliminate as of next Monday reciprocal trade barriers.
Brazil's Secretary of foreign trade which depends from the Ministry of Development and Industry, Tatiana Prazeres and Beatriz Paglieri, Argentine Foreign Commerce Secretary had been discussing the issue for weeks and finally agreed on a timetable, particularly for those sectors most hit by bilateral barriers.
Many Brazilian goods were suffering the overall ban on imports imposed in Argentina by Domestic Trade Secretary Guillermo Moreno, one of the strong men of the Cristina Fernandez administration and political chief of Ms Paglieri. Brazil is most interested in greater access for auto parts and pork.
On the Brazilian side which also blocked in retaliation many Argentine exports from different sectors, particularly from the food and automobile industries, it was decided to normalize the situation following the alleged understanding. Argentina's list of delayed goods includes cars, shrimp, olive oil and wines.
"We have been told by the Argentine Foreign Affairs ministry and by Brazilian sources at the Mendoza summit that as of next July first the situation is back to normal", reported the Argentine television from Mendoza.