YPF stock trades normally at NYSE after complying with requirements
Saturday, June 30th 2012 - 03:59 UTC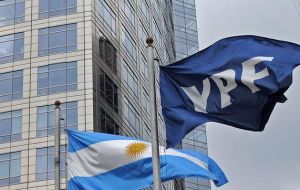 Argentine seized YPF energy company informed on Friday that its American Depositary Shares (ADS) were listed back in to trade in New York after being de-listed for almost two months for not complying with auditory regulations.
In an official communiqué, the Argentine state-controlled company informed that the audit committee's work to comply with US market regulations is done, plus a new board of directors has been seated.
Likewise, the oil giant indicated that it was the NYSE that spread the word in a statement saying that "after appointing a new Company's Board, and the integration of the audit committee along with its independent directors, the company now complies with all NYSE standards."
Furthermore, YPF highlighted that its ADS "will no longer trade under the Below Compliance (BC) index."
The company stopped complying after the government took administrative control of YPF in mid-April. President Cristina Fernandez promulgated a law in early May to expropriate the controlling stake in YPF held by Spain's Repsol YPF SA.
YPF also said its corporate governance practices varied from NYSE standards, including one involving the independence of directors on the company's board.
Argentina renationalized YPF, which was privatized in the 1990s, saying Repsol invested too little in exploration and production, forcing the country to import costly fuels.
Repsol denied the government's charges and brought suit in New York seeking some 10 billion dollars in compensation for its expropriated stake.
In related news YPF announced on Friday it would cancel a 125 million dollar loan from Repsol. The loan, which expires in November 2013, was made by Repsol in August 2011, and the Spanish company recently asked YPF to clear the debt early because of the state takeover.
"As a result of the fore-mentioned request, YPF SA will carry out immediate and full payment of the loan," the company said in a filing to Buenos Aires Stock Exchange.