Gibraltar will never cede "an iota of sovereignty to Spain", says Picardo
Monday, July 2nd 2012 - 05:22 UTC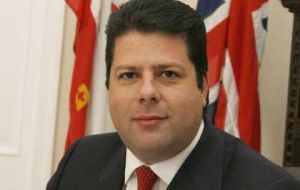 Gibraltar Chief Minister Fabian Picardo has declared that he will never hand over "a grain of sand, a drop of water or a breath of air to Spain". In an interview with the Spanish national press agency EFE, in Gibraltar House in London, Picardo regretted the "difficult relations with Spain" but reiterated that he would never cede "an iota of sovereignty to Spain."
"I desire the best for Spain, economically, socially and politically" while describing Spain's economic crisis as "unfortunate." However he was optimistic about the country's prospects stating that Spain would have "a very positive future."
As regards Gibraltar Picardo said that "we never move from where we are" and that "Gibraltar is British and belongs to the Gibraltarians". Likewise the sovereignty dispute with Spain was already settled arguing that "Gibraltar will never be Spanish, Gibraltar will always be British and Spain knows that".
EFE reports that Picardo has said that Spain "has already moved" on this issue by asking for a return to the situation in 2002 when Spain and Britain agreed the subsequently rejected joint sovereignty plan for Gibraltar.
Picardo is quoted as saying that this would mean for the Madrid Government the loss of half of Gibraltar's sovereignty.
"The truth is that in seeking a return to the situation of 2002, Spain has gone from asking for total sovereignty (of Gibraltar) to asking for half the sovereignty."
The Chief Minister added that the Anglo-Spanish bilateral Brussels process in relation to the Rock's sovereignty is "completely dead, and it will never be possible to revive it."
"Gibraltar has an absolute veto over any attempt by UK to reopen sovereignty negotiations (with Spain)" he underlined.