Venezuelan presidential campaign takes off: Chavez leads massive rally
Monday, July 2nd 2012 - 00:50 UTC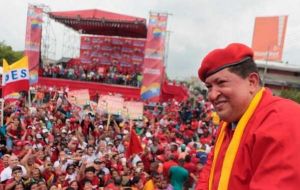 President Hugo Chávez shook off his health problems to lead a massive rally on Sunday while opposition rival Henrique Capriles took to remote regions for the formal launch of Venezuela's presidential race.
Unable to repeat the frenetic campaigning of past elections due to his struggle with cancer, a fist-pumping Chávez nevertheless made a rare appearance at a rally in central Venezuela to underline he is fit enough for the Oct. 7 vote.
"The Bolivarian hurricane has begun!" he roared to tens of thousands of supporters in the central town of Maracay, referring to his personal idol and Venezuela's independence hero, Simon Bolívar.
Capriles, a young ex-state governor seeking to end 13 years of populist rule in the South American OPEC member, flew to two distant spots near the Brazilian and Colombian borders to highlight alleged government neglect of remote communities.
"Venezuela is a blessed country. We just lack a good government," he told indigenous inhabitants of the remote San Francisco de Yuruani hamlet, close to the majestic, flat-topped Roraima mountain in a barely populated region near Brazil.
With three months to the ballot, Chávez has a two-digit lead in most polls. Yet there is a large percentage of undecided voters and one pollster this week put the pair head-to-head.
After three operations to remove two malignant tumours during a year-long battle with cancer, the ever-upbeat Chávez, 57, has in recent weeks declared himself in full recovery and his energy levels appear to be surging just in time for the campaign.
"I want to thank Christ the Redeemer for allowing me to get through this difficult year," he said, after riding on the top of a truck for several hours through streets lined with ecstatic supporters against a backdrop of lush hills.
Most analysts agree the presidential vote is shaping into the closest since Chávez took power in 1999, turning himself into one of the world's most controversial leaders with his anti-American rhetoric and radical nationalization policies.