Argentina and Brazil deny Uruguay and insist the decision on Venezuela was unanimous
Tuesday, July 3rd 2012 - 06:31 UTC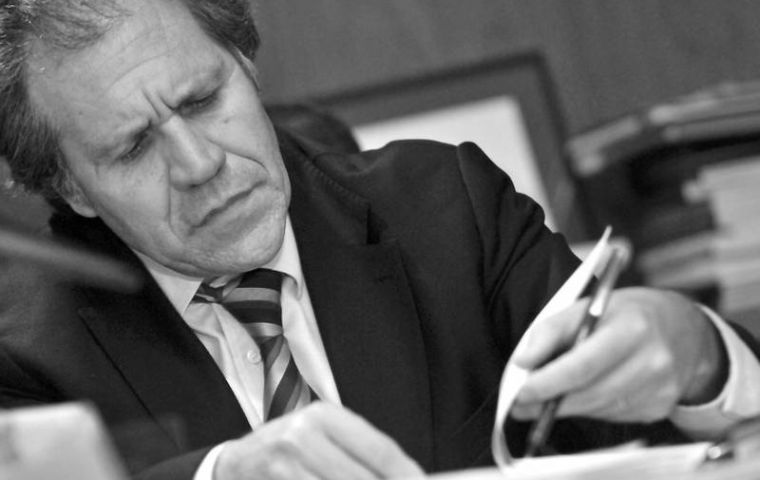 Argentina underlined late Monday that the decision on the incorporation of Venezuela as full member of Mercosur was "unanimously" supported by the presidents from Argentina, Brazil and Uruguay during the group's summit last Friday hosted by President Cristina Fernandez.
Argentina's position coincides with that from Brazil following the surprise statements from Uruguay's Foreign minister Luis Almagro who said the incorporation of Venezuela is "not definitive" and will undergo a juridical review by his team of international law experts.
According to a release from the Argentine Foreign ministry, last Friday following a meeting of Cristina Fernandez, Dilma Rousseff and Jose Mujica, after they had listened to the positions of their Foreign ministers and the legal advisors from Brazil and Argentina, the presidents decided on the incorporation of Venezuela in a closed meeting.
"The analysis from the legal advisors attending the meeting was also unanimous in that the entrance of Venezuela strictly complies with Mercosur treaties and national legislation from the member countries" added the release.
Further more the resolution approving the incorporation "was a consensus among the three Foreign ministers and the legal advisors and approved by the presidents".
The Venezuelan incorporation ceremony is scheduled for next July 31 in Rio do Janeiro with the attendance of the presidents from Argentina, Uruguay, Brazil and Venezuela.
The ceremony takes place in Brazil because the country currently holds the rotating chair of Mercosur for the next six months.
During a morning radio interview in Montevideo Almagro said that "if everybody was so sure about it, Venezuela would have been fully incorporated last Friday in Mendoza (Argentina). For some reason the countries have decided to take their time until July 31".
Last week before leaving for Mendoza, Almagro met with members of Uruguay's Foreign Affairs committees and the opposition, and pledged that there would be no sanctions on Paraguay and the summit would not force the incorporation of Venezuela.
The access of Venezuela as a full member of Mercosur had been requested in 2006 and remained frozen because the Paraguayan Senate refused to take a vote on the ratification of the protocol.