Bank of China expands in Brazil following 30bn dollars swap agreement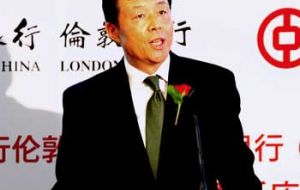 Bank of China plans to cash in on the expanding bilateral trade between China and Brazil and the recent currency swap agreement between the two central banks.
The two countries announced local currency swap of 190 billion Yuan (60 billion Real, 30 billion dollars) during a meeting a week ago between Premier Wen Jiabao and Brazilian President Dilma Rousseff in Rio de Janeiro, on the sidelines of the Rio+20 summit.
"Lifting of the China-Brazil ties into a strategic cooperative partnership means great potential for bilateral cooperation," BOC Vice-President Yue Yi said at a ceremony by the Bank of China Brasil S.A. in Sao Paulo.
The emerging markets of Brazil and South America are strategically important to the Chinese bank, and the operation in Brazil is the bridgehead for BOC business expansion into South American nations such as Argentina, Peru and Chile, according to Yue.
Yue flew in from Beijing to attend the event, and also for the inauguration of the BOC new head in Brazil, Zhang Dongxiang, and to witness the signing of strategic cooperative agreements between BOC Brasil and several companies, such as heavy machinery maker Sany Brazil, telecom equipment manufacturer ZTE, motorcycle producer Kasinski, electronic firm H-Buster and China Tobacco in Brazil.
Li Jinzhang, Chinese ambassador to Brazil said the currency swap agreement will facilitate bilateral trade and investment, citing other areas of financial cooperation, such as stock exchanges in Shanghai and Shenzhen with their Sao Paulo counterpart, and two China-Brazil capital market forums held so far. Other Chinese financial institutions have also started to build a presence in Brazil.
"All these solid achievements show that there is a bright prospect for financial cooperation between China and Brazil," Li told the crowd of about 200 Chinese and Brazilian business executives.
Zhang Dongxiang, the new president of BOC Brasil, said the elevation of bilateral ties provides a rare historical opportunity for the bank's business expansion in Brazil. Bilateral trade has reached 100 billion dollars.
Admitting that there are tough challenges ahead, Zhang promised to build BOC Brasil into a first-class BOC subsidiary overseas.
Zhang, who worked for BOC in Frankfurt, and headed several major branches in China, is author of several books on management. He promised more aggressive business expansion, and improvement in tapping potential of management and human resources. He lists key clients as Chinese companies investing in Brazil, those run by overseas Chinese in Brazil, as well as local companies.
BOC, which celebrated its centennial this year, set up its representative office in Brazil in 1998. BOC Brasil was launched in 2009.