Brazilian opposition blasts Rousseff for the management of Paraguayan situation
Tuesday, July 3rd 2012 - 06:14 UTC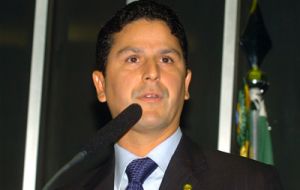 The leading member from Brazil's main opposition political party described Uruguay's claim that consensus was absent in the Mercosur decision to suspend Paraguay and to incorporate Venezuela as "extremely serious" and complained Mercosur has become a merely "ideological" grouping.
Deputy Bruno Araujo, from the PSBD (Brazil's Social democrats) said he was shocked on hearing Uruguay's Foreign minister Luis Almagro revelation that he did not support the move by President Dilma Rousseff to exclude Paraguay and include Venezuela in Mercosur, which is contrary to the long tradition of Brazilian diplomacy respect for self determination.
"This attitude and push-policy by President Rousseff has turned Mercosur into a merely ideological block with no economic results for any of the member countries and its citizens", said Araujo.
He added that the Brazilian government has thrown overboard "the long diplomatic tradition of the country based on Article 4 of the federal constitution that establishes international relations must be based on fundamental principles such as the self determination and non intervention".
Araujo said that the forced inclusion of Venezuela in Mercosur is a great satisfaction for President Hugo Chavez ahead of the presidential election next October.
The Brazilian lawmaker said that Uruguay's opposition to the decision on Venezuela was clearly evident when "Minister Almagro left the room at the moment the Mendoza final declaration was read aloud and president Jose Mujica sat on the second row leaving Uruguayan ambassador Guillermo Pomi in his place".
Over the weekend another lawmaker from the opposition PSDB Sergio Guerra had strongly criticized Mercosur decision to suspend Paraguay from Mercosur and the incorporation of Venezuela.
"PSDB is extremely concerned with the reaction of the Brazilian government to events. There was no rupture of Paraguayan law or an attack on the institutional framework", said Guerra making emphasis on the principles of self-determination and non interference in other countries affairs.
"The Brazilian government decision to suspend Paraguay until 2013 and at the same time admit Venezuela to the block was a hasty one. On the other hand what a difference in the Brazilian government treatment of other countries such as Cuba, Venezuela and Iran", said Guerra.