The Vatican bank opens up to show it is not involved in 'sinful' activities
Tuesday, July 3rd 2012 - 06:20 UTC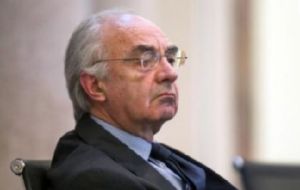 Vatican bank, one of the more secretive institutions of the secrecy-obsessed Vatican, opened itself up to a little external scrutiny in a bid to show it is serious about fighting money-laundering and being more financially transparent.
During a nearly three-hour power-point presentation to a few dozen journalists, the bank's director, Paolo Cipriani, highlighted the peculiar nature of the Institute for Religious Works, the bank's official name, and stressed its internal and external financial controls.
But more importantly, he refuted media allegations that the institution has been less than co-operative with requests for financial information from banks such as JPMorgan and Italian authorities.
At one point, Mr Cipriani displayed a letter from Italy's financial police thanking him for his "timely and exhaustive response" in signalling a suspect transaction to them even before the Vatican's new anti-money laundering law went into effect last year.
And he described in detail the various checks carried out by the institute to ensure that the money that comes into and out of its accounts is clean.
The institute, known by its Italian acronym IOR, has long been the subject of rumour and scandal - earned in part because of its role two decades ago in one of the most spectacular banking collapses in Italy, and ongoing suspicions by Italian investigators that it has not abided by anti-money laundering norms.
Mr Cipriani, in fact, remains under investigation by Rome prosecutors for a 2010 suspect transaction. He has not been charged and said the routine transaction merely involved moving money from one IOR treasury account to another - not a client transfer which requires more information be provided.
In his first ever news conference, Mr Cipriani said that his aim in coming before reporters was to "remove the veil and shadow of the past and do the utmost to respect the needs of the Holy See". However, TV cameras and recording devices were barred, and Mr Cipriani did not take spontaneous questions from reporters.
Instead the Vatican spokesman selected some that had been previously submitted and posed them to Mr Cipriani, an affable, fast-talking Italian who nevertheless seemed a bit overwhelmed by the whole encounter.
The visit comes on the eve of a crucial decision by a Council of Europe committee on whether the Vatican has complied with a host of anti-money laundering and anti-terrorist financing norms.
A good compliance grade will enhance the Vatican's chances of eventually getting on the so-called "white list" of countries that share financial information - a keen aim of both Pope Benedict XVI and Mr Cipriani, since the bank has to deal with financial institutions that insist on such transparency.