Argentine fish and shellfish exports totalled 142.405 tons in five months
Wednesday, July 4th 2012 - 22:01 UTC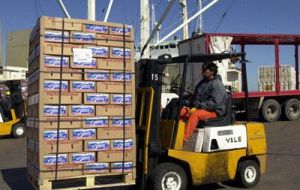 Argentina exported 142.405 tons of fish and shellfish valued at 423 million dollars in the first five months of 2012, according to official statistics from the National Health Service and Food Quality, Senasa.
These figures represent a fall of 13.7% in volume and of 9.4% in value over the same period last year, when 164.876 tons were sold abroad for 466.5 million dollars.
In the first five months of 2012, Senasa certified 88.296 tons of fish exports, valued 220.8 million dollars and 54.109 tons of shellfish worth 202.2 million.
The major export item was hake (Merluccius hubbsi), with 39.805 tons and 106.1 million dollars. These figures indicate a 9.6% fall in volume and 10.7% fall in value compared with the first five months of 2011 (44.009 tons and 118.8 million).
In terms of volume squid (Illex argentinus) was second with 35.327 tons and 83.4 million dollars with a 2.7% increase in volume and 20.6% in value compared to the same period in 2011 (34.386 tons and 69.1 million dollars).
Hoki (Macruronus magellanicus) sales followed with 5.400 tons worth and 13 million dollars; Patagonian anchovy (Engraulis anchovy), 6.547 tons and 15.5 million dollars and shrimp (Pleoticus muelleri) with 14.236 tons and 74.9 million dollars.
Shipments of Patagonian scallop (Zygochlamys patagonica) totalled 2.650 tons and 31.1 million dollars; fin rays (Potamotrygon brachyura), 2.099 tons and 5 million dollars; pollock (Genypterus blacodes), 1.770 tons for 8.6 million dollars and finally flounder (Paralichthys patagonicus), 1.092 tons and 5.4 million dollars.
During the first five months of this year, Spain ranked as the main client for Argentine fish and shellfish with 30.916 tons worth 106.9 million. Brazil followed with 16.246 tons and 49.1 million dollars. US imported 8.095 tons valued 34 million dollars and Italy, with 7.318 tons worth 24.6 million dollars. (FIS/MP).