Chile relocates salmon farms along sanitary corridors to avoid spread of diseases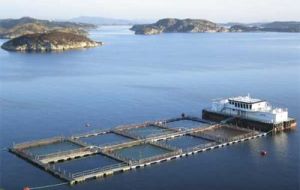 Chilean Under-Secretariat of Fisheries (Subpesca) defined eight macro zones for the salmon industry, which will be located in regions X and XI, extreme south of the country which means companies will have to relocate the farms that are near these sanitary corridors.
There are 72 concessions in total, although not all of them are active.
The macro zones are eight sea and coast territories that will contribute to the isolation of the groups of farm neighbourhoods in case there are outbreaks of disease in any of them, the Under-secretariat stated.
"The idea is that through these current macro zones, in the event of any health issue, there may be mechanisms that may operate to control the spread of disease," Subpesca head, Pablo Galilea, explained according to the newspaper El Mercurio.
"For example, when a health emergency takes place, the restriction on the movement of the vessels providing service for aquaculture around these maritime areas will be immediately implemented," the undersecretary added.
Five of the macro zones are located in the Region of Los Lagos and three in the Aysen Region.
To separate them, a health or fire-ring safeguard corridor was set free from concessions that will have a minimum width of five nautical miles. This corridor was defined based on oceanographic and logistics facts.
Aqua Chile SA will have to relocate eight farms, all of them in the Region XI; while Blumar Seafood SA has a plant to relocate, which will represent a cost of about 800.000 dollars.
The president of the Association of Chilean Salmon Industry (SalmonChile), María Eugenia Wagner, pointed out "the macro zones are an important part of the implementation of the new production model and of the new regulations in force currently and their aim is to take care of the sanitary asset."
Salmon firms are not forced to move their concessions, since the Government has no power to expropriate the licenses. But at Subpesca it was explained that in the relocation process preference will be given to the concessions of those companies that make the change by 2015.
From April of that year, the centres located in the corridors will have to meet strict health requirements, whose lack of implementation could lead to the license revocation.
An outbreak of ISA, infectious salmon anaemia which spread in 2008 had a devastating impact on Chile's salmon industry which at the time was becoming the world's leading producer and exporter. ISA forced the closure of hundreds of farms, labour layoffs and losses of over 2 billion dollars. (FIS/MP).-