Drastic cut in UK Armed forces manpower preparing for "the Army of the future"
Thursday, July 5th 2012 - 18:07 UTC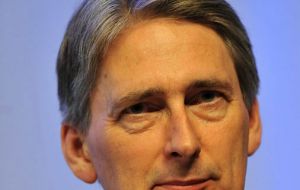 UK's Defence Secretary Philip Hammond announced that 17 units are to be axed from the British army as part of sweeping reforms that will reduce its overall strength by 20.000 posts.
As British forces are withdrawing from Afghanistan, Hammond acknowledged that morale in the army was "fragile". He said the Ministry of Defence had a lot of work to do to explain the changes and restore confidence.
However, he insisted the scrapping of units was the right thing to do, and had, in part, been forced upon the government by the "shocking mess" and mismanagement of the military budget by Labour.
In a statement to the House of Commons, Hammond said five battalions would disappear in the reorganisation.
"In reducing the number of the regular army there must be a reduction in the number of units otherwise we would become top heavy," Hammond said.
"This reduction will fall across all the various services of the army. This has been a difficult process. I understand the attachment of regions to specific units and the pride that they have in those units. And I understand this will be difficult for many people.
"But we must be absolutely clear that this is about the delivery of the future army, recognising and honouring the golden past of the army. Our first priority is to the army of the future."
According to data from the British Ministry of Defence, the number of total personnel is decreasing year by year.
British newspaper The Guardian indicated that by the end of the reorganization process, the army will have been cut by one-fifth to 82,000. The RAF and the Royal Navy will have shrunk too, with each service seeking 5,000 job cuts between now and 2015, and no guarantee of further losses before 2020. And that does not take into account the 32,000 civilians jobs that are being axed.
The head of the army, General Sir Peter Wall, said he wished the structural changes could be made more quickly, but that for practical reasons it would take five years to introduce.
"It is longer than any of us would like. There will be more redundancies, continuing the program already under way with tranches in 2013 and 2014. I wish the rate of change for some of this could be faster."
The changes will form part of plans to implement a new structure, which will see the army split into three; reaction forces, adaptable forces, and force troops.
The reforms have caused anger and frustration within senior ranks.