Auto industry production in Argentina continued to slow down in June
Friday, July 6th 2012 - 07:04 UTC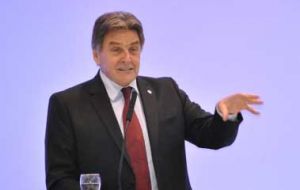 Argentine automobile production fell 12% in June from the previous month and plunged 34.4% from a year earlier, according to an industry trade group. The auto industry produced 52,983 vehicles in June compared with 60,206 units in the previous month and 80,795 a year earlier.
The Argentine auto-making association Adefa said in a statement that Vehicle output during the first half of the year fell 15.4% on the year to 331,798 units.
Exports totaled 29,885 vehicles in June, up 4.3% on the month but down about 36% on the year. Exports in the first half fell 28.4% on the year to 173,472 units.
Brazil was the destination for about 78% of exports in the first half, followed by Europe, with 8.9%, and Colombia, 3.1%.
Adefa President Viktor Klima said thousands of cars had been held up on the way to Brazil because of trade problems but that the issue has been resolved.
Renault stopped production at its main factory in Cordoba until July 10 due to weak demand for vehicles in Brazil. About 1,600 workers have been suspended during the shutdown at the factory, said Leonardo Almada, spokesman for auto workers union Smata.
Brazil's auto makers are also struggling amid fierce competition and rising costs, with production during that five-month period falling 9.5% to 1.28 million vehicles.
In mid June the Brazilian unit of General Motors extended a voluntary layoff program at one factory and added a second factory to the program. General Motors cited growing labour and raw materials costs, among other factors.