Brazil's use of installed industrial capacity falls for a fourth consecutive month
Friday, July 6th 2012 - 01:48 UTC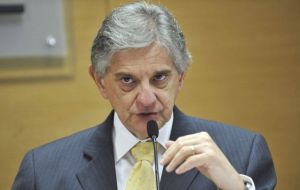 Brazil's use of installed industrial capacity fell for a fourth consecutive month in May, alongside a decline in industrial sales during the period, Brazil's National Confederation of Industries, or CNI, said Thursday.
The group reported utilization of industrial capacity fell on a seasonally adjusted basis to 80.7% in May from 81.0% in April. The result was also down from 82.5% in May 2011.
The CNI reported industrial sales abandoned growth seen the previous month to decline by 0.4% in May. Sales were also down by 1.1% from May 2011. Industrial employment, meanwhile, rose 0.1% from April but was down by 0.5% from a year earlier.
CNI officials said the latest industrial figures showed that Brazil's economy remained fragile during the period after a slowdown seen in the first quarter.
"The May data shows that industrial activity continued to weaken in the second quarter," said CNI chief economist Flavio Castelo Branco. "The use of installed industrial capacity in particular called attention as it was the lowest on record since 2009."
Castelo Branco said the local industry was showing signs it was suffering particularly from a slowdown in demand in global markets.
"Not only has it been difficult to place exports abroad" Castelo Branco said, "but the supply of manufactured products, especially from Asia, has been large and has brought some pressure to industry locally."
The latest figures come as the government continues efforts to counter a recent slowdown in the local economy.
Brazil's central bank has cut the country's benchmark Selic interest rate by 4 percentage points since August to 8.5%. The government this year has also announced a series of tax incentives to local industries to spur production and increase exports.
Brazil's economy grew by only 2.7% in 2011 after a 7.5% expansion the previous year. According to recent central bank market surveys, analysts project growth at about 2% this year.