EU prepared for talks with an expanded Mercosur that includes Venezuela
Friday, July 6th 2012 - 15:38 UTC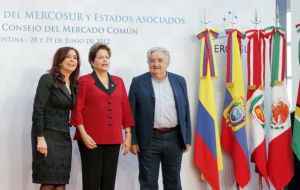 The European Commission has said it will continue negotiations on an association agreement with Mercosur even if Venezuela finally becomes a full member of the group and will address the issue on a "region to region" basis.
"The EC takes note of the possible incorporation of Venezuela to Mercosur. If the incorporation is confirmed Venezuela will then be participating in the EU/Mercosur negotiations" said EC sources regarding the latest events in the South American trade block.
"However it is important to underline that the EU will only negotiate with Mercosur on a region to region basis and not bilaterally with any of the countries" that make up the trade space.
In its latest summit Mercosur members Argentina, Brazil and Uruguay suspended the fourth member Paraguay, following considerations that President Fernando Lugo was removed from office in a manner contrary to the group's democratic clause.
At the summit they also announced that Venezuela will become the fifth full member in a coming Mercosur meeting scheduled for July 31 in Rio do Janeiro.
Even when Venezuela's access to Mercosur was approved by the four countries presidents in 2006, the legislative confirmation had been repeatedly blocked by the Paraguayan congress.
The EU and Mercosur were scheduled to resume this week in Brasilia a new round of negotiations following on the group's rotating chair passing on to Brazil from Argentina, for the next six months. However EU sources said that the round has been postponed for the 23/27 July week, but yet to be confirmed.
EU and Mercosur have been negotiating since 2000 an association agreement that encompasses free trade and strengthening cooperation and political dialogue. But talks were suspended in 2004 because of delays with the Doha Round to liberalize global trade, which both sides considered crucial. Talks were resumed in 2010 in Madrid.
The two blocks have yet to agree on the exchange of the access market lists of goods since European countries are concerned with the possible impact on EU farmers of the influx of more efficient produced (and cheaper) Mercosur agriculture.
Mercosur has also complained about the subsidies and farm price policies implemented by the EU in support of its agriculture which fringe on protectionism.
Likewise lately there is growing concern about the legal security of investments following on Argentina's decision in mid April to seize a 51% majority in YPF from the Spanish oil and gas corporation Repsol.