Mexico follows on Argentina and withdraws from zero-tariff accord for auto industry
Friday, July 6th 2012 - 07:11 UTC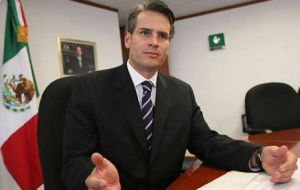 Mexico has withdrawn a zero-tariff agreement with Argentina on autos in a tit-for-tat trade dispute after the Argentine government's decision to pull out of an auto trade pact between the two countries.
Francisco de Rosenzweig, Mexican undersecretary for trade, said on Thursday the measure became effective on June 26. Mexico had said on June 25 that Argentina had pulled out of the auto trade pact over the deal's conditions.
"Mexico is taking a reciprocal action," de Rosenzweig said.
Argentina imports to Mexico will now be subject to a 20% tariff on light vehicles and between zero and 20% for auto parts and machinery, de Rosenzweig said.
When Argentina withdrew from the pact, Mexican cars were subject to a tariff of 35% on vehicles and a range of tariffs on parts and machinery in Argentina.
Mexico previously said it was preparing a case against the South American nation before the World Trade Organization over protectionist measures.
Argentina said in March it planned to seek more favourable terms in the pact, known as ACE-55, aiming to follow Brazil, which won concessions limiting the number of Mexican auto exports to that country.
Mexico's government had said previously it would not renegotiate the 2002 auto pact with Argentina.
The administration of President Cristina Fernandez has tightened controls on imports and foreign-exchange purchases in recent months to improve its balance of trade, which is crucial to boosting international reserves used to pay debt.
Argentina's overall exports to Mexico fell 23% last year while imports from the country jumped 39%, according to the INDEC national statistics bureau.
The Argentine trade deficit with Mexico widened to 1.59 billion in 2011 from 590 million a year earlier. The automotive sector alone registered a 995 million trade deficit in 2011, Argentina's government said in March.
Mexico gave in to pressure to cut auto sales to Brazil to an average of about 1.55 billion over the next three years, bowing to Brazilian concerns about its ailing industrial sector.