Argentina to pay maturing debts in third quarter with central bank reserves
Saturday, July 7th 2012 - 00:58 UTC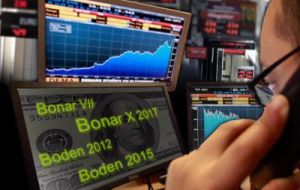 The Argentine central bank will affect 4.165 billion dollars from the bank's freely available reserves to honour government debt maturing in the third quarter, it was officially announced.
According to Central bank sources the reserves will be used to repay loans from multilateral credit organizations that must be honoured until September equivalent to 1.597 billion dollars and 2.568 to cancel debt form private holders.
This last sum will cancel the 2.2 billion dollars Boden 2012, which is a benchmark for the administration of President Cristina Fernandez.
The bond was issued ten years ago as a compensation for the forced 'pesification' of deposits in dollars when the Argentine economy melted and the financial system collapsed. However, currently seven out ten Boden 2012 are in the hands of foreign holders.
The administration of President Cristina Fernandez is planning a big celebration when the Boden 2012 is finally cancelled sometime in August because it means the end of the 2001/2002 default commitments.
Argentina's central bank reserves at the end of June stood at 46.429 billion dollars according to official data.
The Argentine Treasury will hand the Central bank a Treasury bill equivalent to the sum requested, to be fully reimbursed in ten years time with an interest rate equivalent to what Argentina receives for depositing its international reserves during that period with a maximum of the Libor annual rate minus one percentage point.

Interests will be paid twice a year.