Morgan Stanley cuts Argentina's growth estimates and forecasts 2013 devaluation
Monday, July 9th 2012 - 19:59 UTC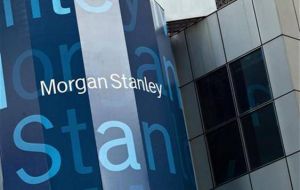 Morgan Stanley has cut its 2012-13 growth forecasts for Argentina and forecasts a sharp devaluation of the Argentine peso next year as the economy starts to unravel amid high inflation and policy missteps.
"Argentina's economy is facing a hard landing as activity has stalled partly due to an increasingly heterodox policy response," Morgan Stanley economist Daniel Volberg said in a report.
Morgan Stanley revised GDP for 2012 to 2.4% from 3.1%, and for 2013 to 0.5% from 3%. The bank left its year-end 2012 exchange rate forecast unchanged at 4.95 Pesos to the US dollar, but it sees the Peso ending 2013 at 7.00 to the greenback.
Volberg said the statistical carryover from 2011's strong growth will account for almost all of the 2.4% growth he forecasts this year. "Indeed, we now envision Argentina's economy posting virtually no sequential growth over the remainder of this year and next".
Argentina appears to be at the end of one of its longest periods of rapid economic growth in a century.
The Argentine economy almost doubled in size between 2003 and 2010, growing an average 7.6% a year during that period, though many economists think the economy contracted several percentage points in 2009 owing to the global financial crisis. The government's highly suspect economic statistics put growth at 0.9% that year.
The economy quickly rebounded to expand 9.2% in 2010 and 8.9% last year, according to government data.
But underpinning Argentina's almost decade-long boom were high prices for its bountiful grain exports, strong demand in Brazil for Argentine manufactured goods, and a recovery in the domestic economy that has pushed unemployment down to multi-year lows.
Though grain prices remain sky high, commerce with Brazil has been badly wounded by trade wars and a sluggish Brazilian economy. President Cristina Fernandez's efforts to goose the economy have fuelled inflation that many private-sector economists say has averaged around 20% for several years.
Inflation is causing headaches for exporters, especially manufacturers who have to contend with even higher wage increases won by unions. The Peso has also firmed against the dollar as the central bank's gradual weakening of the currency hasn't come close to offsetting inflation.
The Cristina Fernandez administration's apparent tolerance of high inflation has undermined faith in the peso and the economy in general.
Capital flight surged to a three-year high of 21.5 billion dollars in 2011, prompting authorities to impose strict foreign exchange controls in October to preserve the central bank's international reserves. Argentina plans to use about 5.67 billion in reserves to pay her government's creditors this year.
Dollar rationing was followed months later by import controls, whose main purpose is to trim hard currency outflows.
Those measures have disrupted activity in the residential real-estate market, where transactions used to be done overwhelmingly in dollars, and in industry, as many companies can't get dollars to pay foreign suppliers.
"The combination of stalling economic activity with rising inflation is fuelling expectations of a one-off large devaluation," Volberg said.
While Argentina's economic problems appear daunting, the government enjoys a strong balance sheet, with international reserves covering 63% of public external debt.
"We suspect that the fears of pesification or repudiation of sovereign debt obligations are likely overstated, as the authorities have the ability and willingness to service debt, at least in the near-term," Volberg wrote.