Cristina Fernandez on Independence Day calls for unity and support for the economic model
Tuesday, July 10th 2012 - 05:24 UTC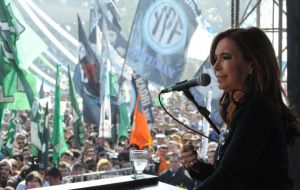 Argentine President Cristina Fernández made a strong call to unity and to defend the economic model during the main celebrations of the 196th anniversary of the Argentine Declaration of Independence held at San Miguel de Tucumán.
During a televised speech, which started on Monday shortly after 2.30 pm, she emphasized the administration's economic model, remembered the path her husband and late President Néstor Kirchner took together nine years before and called for national unity.
"Nine years ago we came to Tucumán to celebrate the 9th of July and Néstor Kirchner lit a path. He proposed a change in which we had to break the chains imprisoning the possibilities of the people," she remembered.
The president celebrated the breaking away from "multilateral institutions" that, according to her, "restricted growth and development" and stressed she was not interested "in progress with equality."
"We were not mistaken when we talked about the necessity of labour and production," the head of state said defending the administration's model.
Cristina Fernández asked Argentines to remain united. "We face the colossal necessity of staying together. Those are fundamentals to keep believing," she said.
"National unity is to find a middle ground so the country remains growing. I ask the forty million of Argentines to join the national unity, because we need a superior one, bigger than the regional union," she stressed.
She celebrated moreover the end of arrears of the 2001/02 default when the Argentine collapsed, saying all debt was going to be "paid off by August 21st".
Cristina Fernandez arrived in the Tucumán province Monday morning and was greeted by Tucumán Governor José Alperovich and his wife, Kirchnerite Senator Beatriz Rojkés.