Argentina to apply new software for quantifying international jigger fleet
Wednesday, July 11th 2012 - 20:19 UTC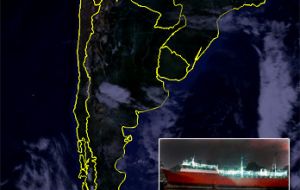 Argentina's National Institute for Fisheries Research and Development, Inidep, announced the development of software that can process, validate and/or automatically calibrate satellite night images of jiggers operating for squid at the 201 mile.
The Institute has nos access to the DMSP-OLS (Defence Meteorological Satellite Programme- Operational Line-scan System) night imagery through the National Commission on Space Activities.
As part of the research of the Remote Sensing Sub-Program in cooperation with the Cephalopod Fisheries Program, the researchers can monitor and quantify the number and size of the fleet catching squid outside the Exclusive Economic Zone (EEZ).
Light emitted by the huge lamps of the vessels generate highly bright areas that can be detected by an OLS infrared sensor, which subsequently allows for identification. The validation of the information obtained is performed using satellite positioning data from Argentinean ships.
According to a report issued by Inidep "The results of this research were saved in a database in order to collect information contributing to the characterization and description of the brightness phenomena generated by the light of one or more ships," Pescare reported.
According to experts participating in this initiative, the results are "really acceptable."
"From an image with unknown satellite positioning of the fleet [foreign jigging fleet], the software identifies the groups and estimates the number of associated ships," the document added.
For example, last 26 February about 87 vessels were fishing for squid in the adjacent area.
Researchers estimate that the more validated/calibrated images they have, the lower the error margin in the mechanism will be as a result of the adjustment model. (FIS)