CFK announces pay rise for the military and plays the nationalistic tune
Wednesday, July 11th 2012 - 06:28 UTC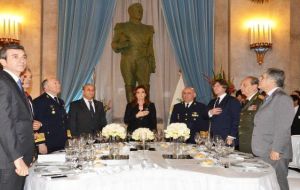 Argentine President Cristina Fernández, CFK, announced Tuesday evening a pay rise for all military personnel, effective July first during the Armed Forces annual dinner at the Libertador Building, in the Ministry of Defence.
The president also called on all Argentines, with or without uniform, to be prepared for the "severe difficulties and restrictions which the outside world is imposing on Argentina".
Although the amount of the increase was not revealed , she said that it will be around the hike that state workers received a few months ago, which stood at 21%.
"During next week, we will sign the decree for the Armed Forces personnel salary increase" said the head of state before making a toast for "the people and the motherland".
In her speech to the Joint Forces command, the commanders of the three services, ministers, officials from the Executive, Legislative and Judiciary, President Cristina Fernandez thanked the Armed forces for their "inclusion task contribution together with other areas of government such as the Ministries of Security and Social Development".
"You are acting in our shanty towns precisely to participate actively not in internal security affairs, which are banned under the Defence Bill, but in tasks which every Argentine, with or without uniform is obliged to if he has a good heart", added the president.
Likewise there was special mention for the military support and logistics in those areas from metropolitan Buenos Aires recently hit by a tornado and in the south of the country when the eruption of a volcano covered large areas with ashes.
The Argentine president also referred to the current international crisis arguing that "in a difficult world, a complex world that not too long from now is going to demand from all Argentines, I reiterate that with or without uniforms, the best of us so that the country can overcome, as it has been doing, the very severe difficulties and restrictions which the outside world is imposing on us".
The president and the military chiefs shared the main table with Vice president Amado Boudou, cabinet chief Juan Manuel Abal Medina; the president of the Lower House Julian Domínguez and the ministers of Defence, Arturo Puricelli, Federal Planning Julio De Vido and Interior and Transport Florencio Randazzo.