Canada protests Bolivian decision to revoke licence to mine silver deposits
Thursday, July 12th 2012 - 07:00 UTC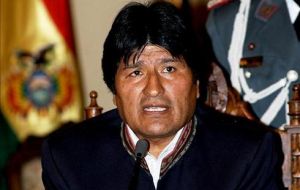 Canadian company is protesting Bolivia's decision to revoke its licence to mine a rich silver deposit in the country and nationalize the project.
The licence was cancelled following opposition from Quechua Indians who had seized workers employed by South American Silver Corp. to press their case.
The Vancouver-based miner said early Wednesday it still had not received any formal notice from the Bolivian government about the cancellation.
"We strongly object to the government's stated course of actions and we will pursue all legal, constitutional and diplomatic options," said Greg Johnson, president and CEO of South American Silver.
Canadian Trade Minister Ed Fast wrote to his Bolivian counterpart Wednesday expressing his "deep concern" with recent reports that Bolivia was preparing to nationalize a Canadian mining project.
Fast's spokesman Rudy Husny said the minister has instructed officials to "intensify their engagement with the Bolivian government to order to protect and defend Canadian interests and seek a productive resolution of this matter."
Canadian officials are expected to meet with the Bolivian government on Thursday in La Paz while Canadian officials in Ottawa are to meet with Bolivia's ambassador to Canada.
The company described the Bolivian government's move as "surprising in light of the fact the company continues to receive the support from the 43 out of 46 indigenous communities in the project area."
"South American Silver has worked closely with these local indigenous communities over the past several years providing significant direct employment on project related jobs, as well as jointly developing programs with the communities to facilitate job training, education, agricultural enhancement and water management for long-term sustainable development," it said.
On Tuesday, President Evo Morales presided over the signing of an agreement with two Quechua communities that opposed the project in the southern highlands.
The communities released two mining engineers over the weekend after holding them for 10 days. Three other engineers were held for five days before fleeing.
That followed a clash between police and Indians in which one activist died under circumstances that remain unclear. News reports say several others were injured.
South American Silver estimates the deposit's reserves at 140 million ounces.
The company says since 2007 it has invested more than 16 dollars million in the discovery and exploration of the site in the Andean region of Malku Khota.
"Ongoing exploration and any future mine development would result in up to 1,000 jobs for local workers in the community," South American Silver said.
"Mining is a key industry in Bolivia and this proposed action by the state sends a strongly negative message to potential investors and developers about the security of title for their investment in the developing country."