Bolivia willing to compensate for silver mine but positions are distant
Saturday, July 14th 2012 - 07:01 UTC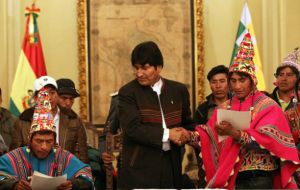 Bolivian government is willing to compensate South American Silver Corp for revoking its concession on the Malku Khota project, but it will be far less than the 16 million dollars the company says it has invested, the country's vice president said on Thursday.
Bolivian President Evo Morales said this week that he signed a deal with protesters opposed to the project stipulating that the government take back all the concessions granted to South American Silver's local subsidiary.
The Canadian company's shares sank on Wednesday after the announcement, and Chief Executive Greg Johnson said the company would seek recourse using any legal and diplomatic means available.
Violent protests over the Malku Khota mining property prompted Morales' decision. The populist leader took similar action last month after clashes broke out at a project operated by commodities giant Glencore.
Malku Khota is a silver-indium-gallium deposit. The exploration-stage project was expected to produce some 13.2 million ounces of silver a year, according to a preliminary assessment.
"The state is predisposed to repay the costs of the exploration's advances up to today, once they are verified," Vice President Alvaro Garcia told a news conference. "Our calculations indicate 2 million or 3 million dollars."
South American Silver says it has invested some 16 million in the project since 2007.
The Bolivian government has yet to formally advise the company of the concession's rescission, which will be carried out via decree.
"We don't have any official notification," said Felipe Malbran, South American Silver's vice president for exploration and head of its Bolivian subsidiary. "We're analyzing what steps to take and we would be open to talks with the government."
Malbran told reporters in La Paz that the company may also potentially take action to seek "just" compensation, although he was not responding specifically to Garcia's remarks.
The violence flared at Malku Khota last week as authorities negotiated with peasant farmers on the release of five Bolivian employee hostages. One man was killed and at least a dozen were injured.
Mining has played a key role in Bolivia's economy since the colonial era. The country mainly produces tin and silver, but is also home to the world's largest undeveloped lithium and potassium resources.
The government is working on a sweeping reform of mining legislation aimed at bolstering the state's role in the industry and giving it a bigger slice of the sector's profits.
Since taking office in 2006, Morales has nationalized the natural gas industry as well as the telecommunications and electricity sectors, arguing Bolivia's poor should benefit more from the country's rich natural resources.