Chile and Peru, best performing economies of the region leave rates unchanged
Saturday, July 14th 2012 - 07:17 UTC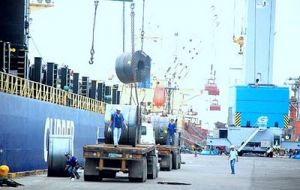 Chile and Peru opted this week against following the lead set by nations from Brazil to South Korea in cutting interest rates as economic growth and slowing inflation in the Pacific neighbors gave central bankers little reason to change monetary policy
Policy makers in Chile kept borrowing costs at 5% for the sixth straight month and their counterparts in Peru held their overnight rate at 4.25% for a 14th consecutive meeting.
The two economies will be among the world's fastest growing in 2012 while also posting some of Latin America's lowest inflation rates, according to International Monetary Fund forecasts.
Chile and Peru have shown few signs of contagion from Europe, as GDP will expand 4.3% and 5.5% respectively this year and surpass the 3.7% average growth rate for the region, the IMF said in its latest forecasts. The global economy will expand 3.5%.
Inflation will average 3.8% in Chile and 3.3% in Peru, compared with 6.4% for Latin America, the IMF said.
Consumer prices in Chile eased to a 16-month low of 2.7% in June from a year earlier, compared to the nine-month low of 4% posted in Peru. Chile's central bank targets annual inflation of 2% to 4%, while Peru's bank targets 1% to 3%.
Brazil's economy, which is Latin America's largest, will fall short of the global and regional average in posting 3% growth in 2012, according to the IMF. Brazilian industrial output fell in May for a third month and retail sales fell by the most in more than three years.
Policy makers in Brazil on July 11 led by President Alexandre Tombini lowered benchmark borrowing costs by 50 basis points to a record 8% to revive economic growth.
The Bank of Korea also on July 11 unexpectedly cut borrowing costs for the first time in more than three years, joining an international push for monetary stimulus as Europe's debt crisis threatens to undermine global growth.
GDP in Chile, the world's largest copper producer, expanded 5.6% in the first quarter from last year, which Peru outpaced with a 6% expansion in the same period, the fastest growth among Latin America's seven biggest economies.
Growth in Brazil, the world's second-biggest emerging market after China, decelerated to 0.8% in the same period, the slowest rate among Latin America's seven biggest economies.
But with more than half of their export revenue coming from commodities, Chile and Peru also are vulnerable to a deterioration of the euro region's sovereign-debt crisis and China's economic deceleration.
Chile in May posted its first trade deficit in nine months on a decline in exports while the government this month cut forecasts for 2012 economic growth and copper prices.
"Domestically, output and demand indicators, despite decelerating less than expected, are evolving at trend rates," Chile's central bank said in a statement accompanying Thursday's decision.
Chile's peso has gained 5.2% against the dollar in 2012, after Colombia's Peso while Peru's Sol is up 2.5%.
Peru had a 34 million trade gap in April, its first deficit in three years, which widened to 106 million in May. Year-on-year growth in Peru slowed to 4.4% in April.
"Some current and advanced indicators of activity show economic growth has stabilized around its long-term sustainable level of growth, although indicators linked to the external market show weak performance," Peru's central bank said in a statement accompanying Thursday's decision.