Brazil loosing influence in South America to Venezuela, claims former president
Monday, July 16th 2012 - 19:19 UTC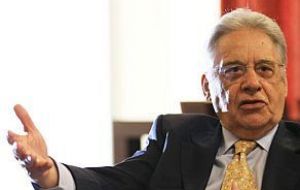 Former Brazilian president Fernando Enrique Cardoso said that his country is rapidly loosing influence in South America to Venezuela, following on remarks about the suspension of Paraguay from Mercosur.
"Brazil is loosing influence: before we had undisputed, automatic and non announced influence in the region", said Cardoso from the opposition Social Democracy of Brazil party, PSDB, in an interview with the magazine Veja, which has the largest circulation in the country.
"Now with Hugo Chavez in Venezuela another pole of influence has been created and I am under the impression that Brazil does not want to counter him, it's as if we belonged to the same family, he's my cousin, he's a 'lefty', I would prefer he wasn't but he is my cousin. Brazil represses itself in taking decisions so as not to be seen as someone outside the family", argued Cardoso.
The former president made his analysis following comments on the Paraguayan situation because of the impeachment and removal of Fernando Lugo which led to the country's suspension from Mercosur and the incorporation of Venezuela.
"There was a lack of diplomacy to address the Paraguayan situation, and not only from Brazil. Anyway if I had a say, I would say the suspension of Paraguay must be avoided when there is only ten months of government left. The action in Paraguay was thundering, politically inconvenient, but it was not illegal" underlined the former president.
And he added "what was really serious was the incorporation of Venezuela to Mercosur in the absence of Paraguay. All Mercosur decisions are by consensus, which means the participation of all members".
Cardoso said he favoured Venezuela in Mercosur but "they had at least to comply the basic requisite of adopting a common external tariff".
Furthermore Cardoso warned about the dangers of protectionism emphasizing that "Argentina has an open determined protectionist tendency, which erodes drastically productivity".