Cuba says cholera outbreak in under control: 3 dead, 158 confirmed cases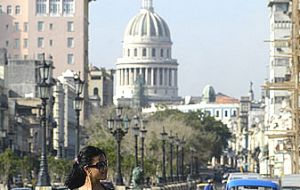 The cholera outbreak in eastern Cuba is diminishing and has not spread to other parts of the country, said the government on Sunday.
A Public Health Ministry statement said there were 158 confirmed cholera cases and three people had died since the illness was first detected in Manzanillo, a city of 130.000 residents located on the southern coast of Granma province.
"The outbreak of cases transmitted through water is diminishing, with no indication the illness has spread through food or other means" Health Ministry statement said.
"Isolated cases have been diagnosed in other parts of the country in people coming from Manzanillo. There is no spread of this epidemic," it said.
Cuban authorities first reported the outbreak on July 3, stating there were 53 cases and three deaths at the time.
Manzanillo residents, especially those who live on the outskirts of town, rely on wells and latrines that flooded in June due to heavy rainfall, contaminating water and causing thousands of cases of severe diarrhoea, of which some proved to be cholera.
Cholera, a bacteria that quickly spreads through contaminated water, is generally not fatal but can kill in just a few hours when diarrhoea and vomiting cause dehydration, especially among the elderly.
While residents in Granma province have been kept informed through radio and television as the government moved to limit the outbreak, national authorities remained mum after the July 3 statement, fuelling rumours of a national epidemic.
A number of countries, including Cuba's biggest tourism provider, Canada, have posted travel warnings.
The United Nations says Cuba has one of the best preventive health care systems in the developing world and it has ample experience battling cholera.
Cuban doctors and nurses have worked for over a decade in Latin American countries including in Haiti where a cholera outbreak has killed more than 7,000 people since that country's 2010 earthquake.