IMF cuts world growth forecast; Latam drops from 3.7% to 3.4%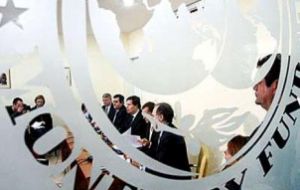 International Monetary Fund on Monday cut its global growth forecast and warned that the outlook could dim further if policymakers in Europe do not act with enough force and speed to quell their region's debt crisis.
In a mid-year health check of the work economy, the IMF also cautioned the productive capacity in a number of emerging market economies, such as China, India and Brazil, may be lower than previously believed and future growth could disappoint.
The IMF shaved its 2013 forecast for global economic growth to 3.9% from the 4.1% it projected in April, trimming projections for most advanced and emerging economies. It left its 2012 forecast unchanged at 3.5%.
Regarding Latin America the forecast was downgraded from 3.7% to 3.4% given the emergence of "clear weakness signals" at global level that will impact in the region.
"Downside risks to this weaker global outlook continue to loom large" the IMF said in an update of its World Economic Outlook. "The most immediate risk is still that delayed or insufficient policy action will further escalate the euro area crisis."
The global lender said advanced economies would only grow 1.4% this year and 1.9% in 2013.
It chopped its forecast for growth in emerging economies this year and next, projecting they will expand 5.9% in 2013 and 5.6% in 2012. Both figures are 0.1 percentage point lower than in April.
The IMF cut its growth forecast for the crisis-hit Euro zone to 0.7% in 2013, while maintaining its projection of a 0.3% contraction this year. It said it now believes Spain's economy will shrink both this year and next.
The IMF sharply revised down its growth projections for the United Kingdom to 0.2% this year and to 1.4% in 2013. In April, the fund said the UK economy would expand 0.8% in 2012 and 2.0% next year.
"The utmost priority is to resolve the crisis in the Euro zone," the IMF said.
It urged the ECB to provide ample liquidity to support banks under "sufficiently lenient conditions" and nudged the central bank to further ease monetary policy.
It made clear, however, that Europe was not the only risk to the outlook.
Currencies like the Brazilian Real and Indian Rupee have depreciated by between 15 and 25% in less than a quarter, the IMF noted.
"In emerging economies, policymakers should be ready to cope with trade declines and the high volatility of capital flows," it said.
The IMF cut its 2012 growth forecast for China 8.0%, down from 8.2% and said it now expected growth of 8.5% next year, down from 8.8%.
It also sharply revised down its growth projections for India to 6.1% this year from 6.9%, and chopped its 2013 forecast to 6.5% from 7.3%.
Brazilian growth was cut 0.6 percentage points to 2.5% while Mexico's was increased 0.3 percentage points to 3.9%.
Meanwhile, Africa's growth is still seen at a robust 5.4% this year and 5.3% in 2013, as the region mostly remains relatively insulated from external financial shocks.
The IMF said growth in the Middle East will be stronger this year as key oil producing countries boost production and Libya's economy rebounds from conflict in 2011, but it held its forecast for next year at 3.7%.