Italian banks downgraded but risk-rating agencies analysis are also questioned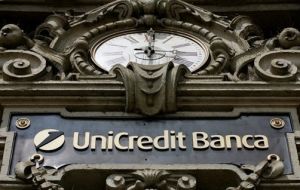 UniCredit SpA and Intesa Sanpaolo SpA were among 13 Italian banks that had long-term debt, deposit or issuer ratings cut by Moody's Investors Service, which cited the government's weakened creditworthiness.
UniCredit, Italy's biggest bank, and Intesa, the nation's second-largest lender, had their debt and deposit ratings lowered two steps to Baa2, Moody's said on Monday in a statement. It was the second time in two months that Moody's downgraded the firms. The outlook on both is negative in line with the government's the ratings company said.
Moody's reduced the country's bond rating last week to Baa2 from A3 and said further cuts are possible as the nation grapples with weak growth and elevated unemployment. The new grade is two levels above junk.
"Despite UniCredit's substantial international activities, its important exposure to its domestic market means that its stand-alone rating is constrained by the level of the sovereign rating," Moody's said on Monday. "Intesa's business is almost entirely domestic in nature," so its rating is also limited by the government, it said.
Ten banks had long-term debt and deposit grades cut and three firms had issuer ratings reduced, Moody's said. Ratings fell one step for seven of the affected companies, and two levels for the remaining six.
Investors are paying less attention to the views of rating companies and relying more on their own analysis. After Moody's downgraded the biggest Nordic banks in May, bond and share prices rose. Italian and Spanish borrowing costs plunged to the lowest in at least 11 months earlier this year as investors ignored Moody's downgrades.
Moody's had cut 26 Italian banks, including Milan-based UniCredit and Intesa, by one to four levels on May 14. In that case, it cited weakened earnings and the country's economic outlook.