Brazil's nominee for securities regulator chosen from the private sector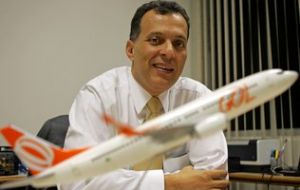 Leonardo Gomes Pereira, the chief financial officer of Brazilian airline Gol Linhas Aereas was nominated on Tuesday to head the country's securities regulator, in an unexpected pick outside the institution. Finance Minister Guido Mantega nominated Pereira to head the regulator, the CVM, the ministry said in a statement.

The nomination, which is subject to Senate confirmation, surprised some in the market who had expected the new CVM president to come from the ranks of Brazilian exchange operator BM&FBovespa or the CVM's own board.

Pereira was nominated to succeed Maria Helena Santana, whose term ended on Saturday.

Pereira has worked for Gol since 2009. He has a degree in economics and previously was CFO at cable company Net, run by Mexican billionaire Carlos Slim's America Movil.

At the beginning of July, Pereira agreed to pay 200,000 Reais ($98,000) to close a CVM investigation of changes to Gol's forecasts that were not filed with the regulator last year. Such a payment does not imply an admission of guilt.

Luiz Leonardo Cantidiano, a former CVM president and now a partner at law firm Motta, Fernandes Rocha Advogados, said the selection of a private-sector executive could indicate the government's interest in developing new aspects of Brazilian capital markets.

"Several major issues on the agenda have already been addressed in recent years. I think it may now be time for new development," said Cantidiano.

Under Santana, the CVM carried out the transition to IFRS accounting standards in Brazil and worked to step up investigative efforts.