Buenos Aires sends forces to Santa Cruz province to help with law and order
Wednesday, July 18th 2012 - 07:52 UTC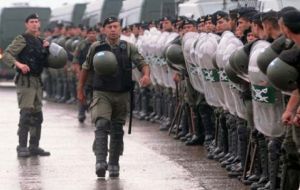 Argentine President Cristina Fernandez political turf, the Patagonian province of Santa Cruz has formally requested the deployment of federal forces to help keep law and order because of a 16-day strike by the provincial police.
Security Minister Nilda Garré ordered the deployment of 240 federal forces members including border guards, prefecture officers and Federal Police officers to Santa Cruz province, following Governor Daniel Peralta's request to guarantee security.
The federal forces were scheduled to arrive late Tuesday early Wednesday and will be relocated in the capital Rio Gallegos, El Calafate and Caleta Oliva.
Shops and businesses in the three locations had begun to cut working hours and some simply closed fearing the lack of security. Caleta Oliva over the weekend recommended shops not to open since it couldn't guarantee safety.
Earlier Tuesday the Security Ministry in Buenos Aires released a communiqué stating that "shortly after noon on Tuesday July 17th, the Security Ministry received a message from the Santa Cruz Governor requesting the aid of federal armed forces in accordance to articles 23 and 24 of national law 24,059."
On Monday Santa Cruz Government Minister Paola Knoop confirmed that the Peralta administration had sent a request to Minister Garré asking her to intervene to guarantee the security of the province, as stated by Interior Security law 24,059."
The Santa Cruz police officers have been holding a strike for over two weeks demanding a wage hike. The strike has the support of 90% of the police force. The provincial government assured that a 34% wage hike is their last offer on the matt but the protestors considered it insufficient since they are demanding a floor of 9.000 Pesos (approx 1.800 dollars per month with an exchange rate of 5 Pesos to the dollar) but the government is offering 6.627 Pesos (approx. 1.325 dollars)
Despite initial speculation that the governor would declare a Security Emergency, Peralta apparently chose to ask the National Government for additional resources until the current crisis is solved.