Odyssey recovers 48 tons of silver from WW2 British ship torpedoed off Ireland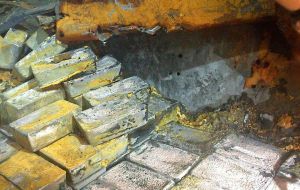 Odyssey Marine Exploration Inc, a salvage specialist famous for finding the 500 million dollars Black Swan shipwreck off Portugal in 2007, said it had recovered 48 tons of silver from a British merchant ship that was torpedoed off the coast of Ireland 70 years ago.
At current prices, the haul is worth about 38 million dollars, and the company said on Wednesday that there is more to come from the ship, which is lying three miles below the surface.
The bullion was recovered from the wreckage of the Gairsoppa, a 412-foot steel-hulled cargo ship torpedoed by a German U-boat during World War Two.
Under an agreement with the British government, Odyssey is allowed to keep 80% of the treasure after recouping its expenses, the company said.
Odyssey, based in Tampa, Florida, said it believed the ship was carrying five times as much silver as the company has recovered so far. That would value the whole cargo at about 190 million.
The company, which did not disclose the exact location of the ship, ran into trouble with a similar salvage operation five years ago after the Spanish government claimed ownership of a wreck off Portugal.
The dispute then moved to the US courts where earlier this year a judge ruled in favour of the Spanish government, forcing the company to hand over gold and silver bullion that media reports valued at about 500 million dollars.
The company said it had shipped the Gairsoppa silver to "a secure facility" in the UK.
Odyssey is also involved in a project to recover silver from the SS Mantola, which was sunk by a German submarine in February 1917 about 100 miles from the Gairsoppa site.
Odyssey, founded in 1994, said on Wednesday it lost about 15.6 million in the three months to June on revenue of about 1.4 million. Market analysts had expected the company to report revenue of about 7 million.
The company's major shareholders are investment funds. Brinker Capital, a Pennsylvania-based hedge fund founded by Charles Irwin Widger, owned about 6% as of March 31 while BlackRock Institutional Trust Co owned about 5.3%.