Chinese electric-battery buses for Uruguay; the first arrive at end of 2012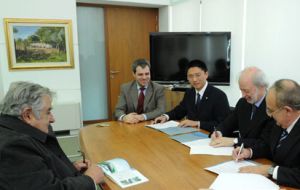 China' BYD has inked another strategic deal for its electric bus products, this time in Uruguay with one of the country's leading tourism companies. The agreement was witnessed by Uruguay's president Jose Mujica.
Juan Carlos Lopez Mena, President of Buquebus, Uruguay's largest tourism company, stated, "I am ready to invest heavily in a natural Uruguay – I will replace my whole tourism bus fleet with new energy buses."
BYD Senior Business Director Stanley Lin Tang commented that "Uruguay is an important tourism market yet it imports all of its petroleum. Promoting electric vehicles not only contributes to environmental protection and economic recovery, but it also improves Uruguay's energy security".
The BYD GreenCity buses that CTS and Buquebus are purchasing are able to run 250 km on a single charge in urban conditions, with an energy consumption of less than 130 kWh per 100 km.
The core technology of the BYD electric buses is BYD self-developed Iron-Phosphate battery technology boasting the highest safety, longest service life and most environmentally-friendly rechargeable chemistry.
The BYD buses have been in service in four cities including Shenzhen, Changsha, Shaoguan and Xi'an accumulating over 7.4 million kilometers by the end of June 2012.
The first BYD electric buses will arrive in Uruguay before end of 2012 with a target of having over 500 buses running by 2015.
Buquebus is the largest tourism transportation company in Uruguay carrying more than 2 million passengers in neighboring Argentina and Uruguay a year by ferry and bus.
Buquebus was created over 30 years ago by CEO, Mr. Juan Carlos Lopez Mena starting with a 40-year-old vessel and a market of only one hundred thousand passengers. Buquebus is also the largest Tourist Agent in South America, selling over 300,000 hotel beds and 400,000 city tours per year.
BYD is the leading manufacturer of advanced, environmentally-friendly battery technologies like the BYD Iron Phosphate battery used in BYD electric vehicles and electric buses. BYD's solar panels and LED Lighting systems have CEC, TUV/CE and UL listings, and the company enjoys rapid growth in consumer electronics space and electrified transportation sector manufacturing under its BYD brand.
BYD is the fastest-growing Chinese automotive and green energy technology enterprise. The Company trades on the Hong Kong Exchange as well as on the Shenzhen Stock Exchange.