Dozens arrested at funeral of Cuban dissident leader at a Havana church
Wednesday, July 25th 2012 - 07:49 UTC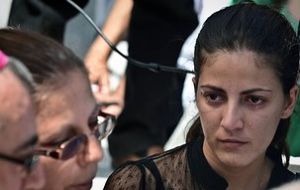 Cuban police arrested dozens of dissidents Tuesday at a funeral for political activist Oswaldo Paya and after his daughter's vow to seek justice over his sudden death in a road accident.
Those arrested included Guillermo Fariñas, a leading rights activist, who was held for questioning by plainclothes police deployed outside the Havana church where Paya's funeral was held.
Fariñas, known for hunger strikes that drew attention to the plight of political prisoners in Cuba, and about 50 others were stopped by police after emerging from the funeral mass shouting slogans against the government.
They were forced onto two buses that the church had provided to take people to the cemetery where Paya was to be buried.
Paya's daughter, 23-year-old Rosa Maria Paya, sharply questioned the authorities' account of the circumstances around her father's death in an impassioned statement delivered at his funeral before an audience that included leaders of Cuba's Roman Catholic church.
"The repeated threats against the life of my father and our family and those who have accompanied us during all these years, know the truth in what I am saying," she said.
She said she was holding the government of President Raul Castro responsible for the "physical integrity of my two brothers, my mother and all my family."
Authorities said Payá, 60, died on Sunday along with another dissident, Harold Cepero Escalante, when their rental car went off the road and struck a tree in south-eastern Cuba.
A Spanish national who was driving the car was taken into custody by Cuban police for questioning after being released from a Havana hospital on Monday, a Spanish embassy source said.
The source said Angel Carromero Barrios, a 27-year-old activist with the youth wing of Spain's ruling Popular Party, was being held in Bayamo, 744 kilometres southeast of Havana.
A Swede, 27-year-old Jens Aron Modig, also was in the car at the time of the crash. He was treated at a local hospital and released. The Swedish embassy would not comment on his situation.
Rosa Maria Paya told the Miami-based El Nuevo Herald that passengers in the car at the time of the crash had told the family of a second vehicle that had tried to force their car off the road.
"We are going to shed light and seek justice for the violent death of my father and our young friend Harold," she said at the funeral service.
"We do not seek vengeance. We do not do it out of hatred because as my father said... we do not have hatred in our hearts, but we do have a thirst for the truth and a yearning for liberty," she said.
Paya was eulogized Tuesday by Cardinal Jaime Ortega, the archbishop of Havana and a key intermediary with Cuba's aging leadership, as a man whose political activism was rooted in his Christian faith.
"Oswaldo had a clear political vocation and, as a good Christian, this did not distance him from his faith or religious practice," Ortega said. "On the contrary, he always looked to his Christian faith as inspiration for his political options."