EC says manipulation of financial "benchmarks" to become "criminal offence"
Wednesday, July 25th 2012 - 19:33 UTC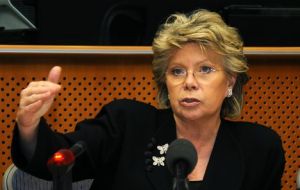 The European Commission has adopted amendments to the proposed Regulation and Directive on insider dealing and market manipulation, following the recent LIBOR and EURIBOR scandals.
Manipulation of these so-called "benchmarks" will be clearly prohibited by Wednesday's proposals, and be made a criminal offence.
EC Vice-President Viviane Reding said: "We want to close any regulatory loopholes. There must be zero tolerance for manipulators in the EU financial markets."
Wednesday's action responds to serious concerns raised about false submissions of banks' estimated inter-bank lending rates. Initial proposals were put forward by the Commission on 20 October 2011.
"Following further assessment, the Commission has concluded that manipulation of these benchmarks needed to be covered by the proposals" said Ms Reding adding that "the amendments aim to explicitly cover the manipulation or the attempt to manipulate benchmarks such as LIBOR, which prove to be timely, as the European Parliament and the Council are able to consider them before the next legislative stages in the autumn".
Many financial instruments are priced by reference to benchmarks. While it may be difficult or impossible for a competent authority to prove that manipulation of a benchmark had an effect on the price of related financial instruments, any actual or attempted manipulation of important benchmarks can have a serious impact on market confidence and could result in significant losses to investors or distort the real economy.
"The Commission's response to this concern is based on the belief that intentional transmission of false or misleading information manipulating the calculation of a benchmark, must be subject to criminal sanction, preventing the exploitation of regulatory loopholes in Europe", said Ms Reding, vice president of the EC.