French president Hollande welcomes new Paraguayan ambassador to Paris
Wednesday, July 25th 2012 - 21:54 UTC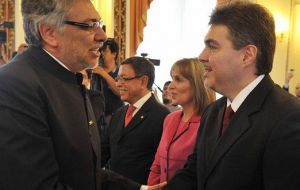 Paraguayan ambassador Emilio Gimenez Franco presented last July 11 his credential letters to French president Francois Hollande, making him the country's representative before Paris.
The event happened following the removal of Fernando Lugo as president (June 22) and his replacement by Vice president and now President Federico Franco, points out the Paraguayan Foreign Ministry official web.
"Emilio Gimenez Franco was nominated as ambassador in France by former president Fernando Lugo in November 2011. Last April the diplomat was accused of having 'inflated' expenses to claim an additional sum of money but when the issue surfaced an investigation was already on going. Nevertheless this did not impede him nomination".
The administration of President Franco argues that from the moment ambassador Gimenez Franco credentials were accepted, France fully recognizes the new Paraguayan authorities.
In related news the head of one of the political groupings in the Senate led by a former general said that Fernando Lugo had offered him "half the cabinet seats and ten million dollars not to vote for the political impeachment".
Senator Lino Oviedo (a former general and convicted ten years for a coup attempt) made the statements to a local radio in Asuncion and said the offer was recorded during the telephone call.
He admitted to not having accepted since "all was decided because of the reiterated misconducts and incompetence from President Lugo; how could he have named a physician Minister of Interior: he was unable to prevent the killings that triggered the impeachment".
Oviedo leads one of the factions from Paraguay's long-ruling hegemonic Partido Colorado and on occasions did collaborate with the administration of Lugo including for the naming of some members of the Supreme Court and ambassadors.