Argentine organized labour divided but fearful of Cristina Fernandez intentions
Thursday, July 26th 2012 - 09:19 UTC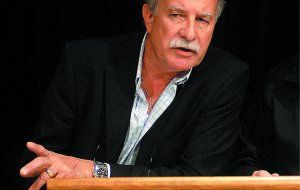 Argentine union leaders said that the conflict inside the CGT umbrella organization is "purely political" and claimed that President Cristina Fernandez is after a "divided and passive" organized labour movement.
Omar Plaini, head of the newspaper salesmen union and ally of CGT Labour Confederation boss, Hugo Moyano, assured that the conflict in the umbrella union is "purely political", although regretting the existence of dissident factions within the organization.
In addition, Plaini backed the presidential intentions of Moyano by saying "Why a man of the union movement couldn't tomorrow have the opportunity to lead the destinies of the country?"
In that sense, Plaini drew a parallel with the Brazilian former president Lula da Silva, who became the first unionist to be elected president.
"Lula is considered one of the best presidents. So, what is the problem is a lorry-driver runs for president?"
Asked about the many factions co-existing at the CGT, Plaini said: "It has always been divided into more than one sector. Ask any citizen if the ongoing conflict is legal or political, everybody will say it is political."
Likewise restaurant workers union leader Luis Barrionuevo assured that President Cristina Fernández "seeks to bend the CGT's will" and accused Economy vice-minister Axel Kicillof of promoting intervention in unions.
Barrionuevo, who heads Blue and White CGT and has been distanced from Hugo Moyano for some years said President Cristina Fernández, is after "a divided and passive CGT."
"She wants to represent us all," assured Barrionuevo and said the Head of State's unity hopes are a lie.
"Kiciloff, we know from credible sources, suggested the President to intervene the CGT" Barrionuevo, who took part in some anti-Moyano faction meetings, assured.
Regarding the central umbrella union, which split following Moyano's re-election as secretary general, Barrionuevo said the Government analyzed two different options to act upon.
"This must be known. Moyano's term was coming to an end and there were two alternatives: an intervention or what actually happened, which is the most democratic: that within a division, a majority keeps power."