Evita Peron 100 Pesos bill to commemorate 60th anniversary of her death
Thursday, July 26th 2012 - 08:50 UTC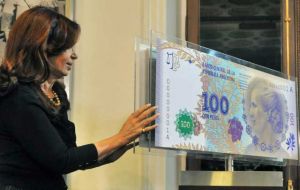 Argentine President Cristina Fernández unveiled a new 100 Pesos note featuring Eva Perón's portrait to commemorate the 60th anniversary of her death in 1952. The Wednesday ceremony at Government House convened political allies and representatives from the banking and financial sectors.
"I want to thank the mint workers, who made this work possible. We are honouring a woman who not only marked Argentine history but changed world history," she added as she led the ceremony at the Argentine Women's Hall in the Government House.
The new note will coexist with the current 100 peso Pesos bill featuring former President Julio Roca, famous for having conquered and stabilized Patagonia.
The President said she will ask monetary officials that the commemorative bill becomes standard Argentine note. The design is based on a draft from a 5 Pesos bill which began to be printed in 1952 following her death, but which never circulated.
"It started as a commemorative bill but I'm going to request that the necessary measures are taken to that this become the official new 100 Pesos bill", said Cristina Fernandez who added "without subtracting merits, you know history is a complex issue but after 200 years of money printing this is the first time we have a woman in a bill".
Therefore the request will be presented to the monetary authorities so that they comply with operational mechanisms to replace the bill which now features former president Julio Argentino Roca.
Thursday will mark the sixtieth anniversary of the death at the age of 33, of Eva Peron, the most influential woman in Argentine history. She was the wife of three times president Juan Domingo Peron and his most effective political operator.
The original draft which was banned by the military Junta that followed the ousting of Peron in 1955 survived hidden, behind some furniture, by a staff member from the Minting House and was only revealed a couple of years ago.