London Day 1: a blooper and an athlete ousted for racist remarks
Thursday, July 26th 2012 - 06:49 UTC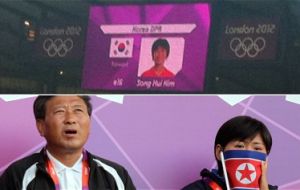 The Olympic Games in London took off with a blooper that delayed a women's football match and the ousting of a Greek athlete for tweeting racist remarks. It all started in Glasgow where the North Korean women's football team has walked off the pitch after their images were shown on a screen beside a South Korean flag.
Kick-off was scheduled for 19:45 BST. The game started over an hour late with North Korea playing Colombia at Glasgow's Hampden stadium.
Games organizers in London have apologized to North Korean officials for the mistake.
The error occurred when a video package was being shown ahead of kick-off, with the North Koreans noticing that their faces were being pictured alongside the South Korean flag.
The squad walked off and could only be persuaded to return when the teams were announced again with each player's face displayed next to the North Korean flag.
London Olympic organizers apologized and stated that "today ahead of the women's football match at Hampden Park, the South Korean flag was shown on a big screen video package instead of the North Korean flag. Clearly that is a mistake."
"We will apologize to the team and the National Olympic Committee and steps will be taken to ensure this does not happen again."
Meanwhile Greek triple jumper Paraskevi Papachristou was ousted on Wednesday after causing an uproar at home for a tweet slammed as racist, the Greek Olympics team said.
"With so many Africans in Greece... the West Nile mosquitoes will at least eat homemade food!!!" she had posted on her Twitter account.
The country's Olympic Committee said she was being pulled from the team because her comments were against the Olympic spirit.
"She showed no respect for a basic Olympic value and unfortunately she is out," Greek mission chief Isidoros Kouvelos told SKAI TV. "She made a mistake and in life we pay for our mistakes."
The 23-year-old, who was scheduled to leave for her first Olympics next week, later apologised for what she said was "an unfortunate and tasteless joke" that she first saw on Facebook and that did not reflect her beliefs.
"I am very sorry and ashamed for the negative responses I triggered, since I never wanted to offend anyone," Papachristou, a blonde-haired athlete who sports a navel piercing, wrote on her Facebook page in Greek and English.
"My dream is connected to the Olympic Games and I could not possibly participate if I did not respect their values."
One man has died in a small outbreak of the West Nile virus in Athens this month and at least five other cases have been reported, Greece's disease control and prevention body said.