Mercosur farmers support Paraguay and call for harmonic relations in the group
Thursday, July 26th 2012 - 09:10 UTC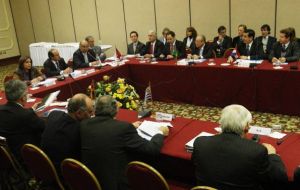 The suspension of Paraguay and the intent to incorporate Venezuela to Mercosur represent a threat to the regional integration process, said the Mercosur Federation of Rural Associations, Farm, currently meeting in Santiago de Chile.
The position of Farm on the institutional situation of Mercosur was presented to the XXIII edition of the Agriculture Council of the South, CAS, which brings together the ministers of Agriculture from the region.
The Farm report says that Mercosur political decisions to suspend Paraguay and incorporate Venezuela to the current political scenario represent a threat to the ongoing regional integration process in which the countries from the rural grouping "have invested two decades of efforts".
"Farm believes that good relations among nations are based on respect to each country's sovereign decisions under the principles of non intervention and the free determination of the peoples, as long as the constitutional norms are strictly respected and complied", says the association.
Further on it mentions that members from Farm visited Paraguay with the purpose of collecting information on the political and institutional situation in the country.
"We were able to confirm that in Paraguayan territory there is clearly a peaceful atmosphere with rule of the law as well as full exercise of public liberties and rights", indicated the Mercosur farmers' group.
Farm thus expresses to the forum of Agriculture ministers "the private rural sector deepest concern on the institutional situation of Mercosur. At the same time we call upon the governments not to spare efforts in the search of mechanisms that enable to re-establish harmony in relations among the block's countries in such a way as to consolidate our position as a leading power in providing food to the world".