Mujica warns Uruguay is going through an exceptional period, but it is also finite
Thursday, July 26th 2012 - 20:35 UTC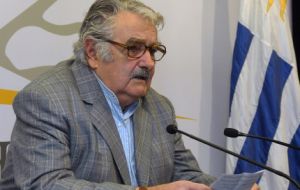 President Jose Mujica said Uruguay was going through an 'exceptional' period vis-à-vis the world crisis but also warned that exceptionality has limits and is not forever.
"In Uruguay we are living a real exceptionality, but exceptionalities are not ad infinitum" said Mujica who then described the "formidable economic crisis" which is suffering the rich world, particularly in the EU and the US.
But probably the worst of the crisis is the "enormous uncertainty" it has created since "nobody has very clear" what can happen, how it will be resolved and its repercussions, whether short or long term, said the Uruguayan leader in his daily broadcast.
The European crisis effects are already "banging on our door: if we look at trade with the former rich Europe and above all because some manufactured goods we use to send are no longer demanded" said the president in reference to fish, wood and pulp.
Bur fortunately, so far, "the situation in Latinamerica outstands as an exception".
While the economy is contracting around the world, "Uruguayan exports increased in the first half of the year 11%, what we couldn't sell to the EU we are exporting to countries in the region not belonging to Mercosur".
In spite of all the obstacles Uruguay has managed to diversity trade to access other markets and "it is working". He underlined the significance of China.
"China has become our main trade associate, ahead of Brazil (until recently number one), then Argentina and in fourth place Venezuela, mainly because of the sale of dairy produce, 'they love Uruguayan cheese' and also some beef cuts".
But Mujica also complained about domestic 'obstacles' and mentioned the electoral campaign that has started two years ahead which he claimed has created further 'uncertainties'.
"Many people in Uruguay don't realise how fortunate we are and maybe for this very reason we don't look much after it", he said. "For the moment everything is rolling fine, I'd say exceptionally fine. These few last years haven't been that bad despite all the criticisms".
Finally he underlined it would be good if pessimistic Uruguay realized that despite the global difficulties "we're not doing that bad after all. But also, let us not forget that exceptionality is that exceptionality and it is finite".