PM Cameron receives Dilma to talk about Olympics, trade and global economy
Thursday, July 26th 2012 - 05:28 UTC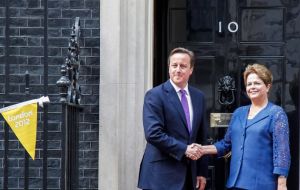 Brazil's President Dilma Rousseff held talks with British Prime Minister David Cameron on Wednesday to pick up some tips on staging the 2016 Olympic Games in Rio de Janeiro.
Welcoming Rousseff to the Downing Street residence in London, Cameron said the Olympic connection provided a "great opportunity" for cooperation between Brazil and Britain.
Rousseff is among 120 national leaders expected to attend the opening ceremony of the London Games on Friday. She is on a four day visit to the UK.
Cameron said he also wanted to deepen trade ties between Britain and Latin America's dominant power, which overtook Britain this year to become the world's sixth largest economy.
Trade between the two countries was worth 8.57 billion dollars in 2011, an increase of just over 10% on the previous year.
"Obviously we have good opportunities for wide-ranging discussions but also the chance to talk about the Olympics here in London and the Olympics to come in your country next," Cameron said.
"It's going to be a great opportunity for cooperation between Britain and Brazil."
The pair discussed the Euro zone crisis and the global economy with Cameron pressing the case for continued liberalisation of trade between Brazil and the European Union, according to a Downing Street statement.
The two leaders also agreed on the need for international cooperation to tackle Iran's nuclear program and also to end the crisis in Syria, the statement added.
Rousseff said: "This is a special moment in time for Brazil-UK relations because Brazil will be the next country to host the Olympic Games in 2016".
The Brazilian president is travelling with Foreign minister Antonio Patriora; Sports minister Aldo Rebelo; Tourism, Gastao Vieira; Education, Aloizio Mercadante and Science and Technology, Marco Antonio Raupp. Also in the delegation is Central bank president Alexandre Tombini and president of the Lower House of Congress Marco Maia.
The Brazilian president is scheduled to meet with the leader of the opposition, from the Labour Party, Ed Milliband. On Wednesday she inaugurated at the London Film Museum a campaign from the Brazilian Tourism Institute to promote the country as a tourism destination, and on Thursday the president is scheduled to meet with cosmographer Stephen Hawking and Brazilian students at the Sciences Museum in London.