Russia will sacrifice 33.000 hogs because of African swine fever outbreak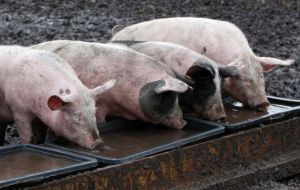 Russian veterinary services have ordered the termination of 33.000 hogs following an outbreak of Africa swine pest, in the region of Tyer, in the neighbouring province of the capital Moscow.
"The situation is very sad for farmers…but we have to sacrifice 33.000 hogs" said Nikolai Vlasov, Deputy Chief of Russia's Federal Service for Veterinary and Phytosanitary Surveillance quoted by the Interfax agency.
He added that the settlements belonging to the consortium Ru-Com will also have to be destroyed "since there is no other way to ensure elimination of the infection".
Vlasov admitted the veterinary services fears that the outbreak could spread to a neighbouring farm from the same company where 90.000 hogs are fattened.
"We are not sure of controlling such a situation" said Vlasov who also blamed local officials since they don't have much information and certainly "don't know how to proceed in such a situation, which should have started by calling us immediately"
Russian veterinary services quarantined the area with the infected hog farms and banned all transport of meat produce for the next three months.
The African swine fever, far more devastating and deadly than common swine fever was first discovered in Kenya in 1910.
In related news neighbouring Belarus banned the import of pork from Tver Oblast and Volgograd Oblast, Russia due to African swine fever outbreak.
Chief State Veterinary Inspector of Belarus Yuri Pivovarchik said the ban extends to the import of live animals, sperm, pork and processed pork products, hides, hoof raw materials, hog hair, and hunter's trophy acquired from susceptible animals.