Best looking women cities: Kiev, Stockholm and in the neighborhood Buenos Aires
Friday, July 27th 2012 - 05:29 UTC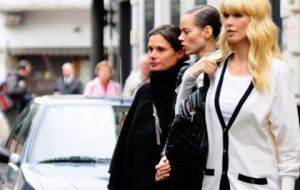 Travelers Digest's Top Ten Cities With The Most Beautiful Woman says Kiev is 'without a doubt, home to the world's most beautiful women', closely followed by Stockholm and not so distant Buenos Aires.
In praising its population the online magazine notes: "A visit to Kiev is truly awe-inducing and it's almost hard to believe that women this beautiful even exist".
And for anyone who thinks that beautiful women must be vapid as well, Ukrainian women are ready to disprove that theory: "the women in the country are well educated and always ready to talk about literature or philosophy".'
Stockholm is on the second on this list, with the website saying: 'What you have seen on the beer commercials is true; Sweden really does have some of the world's most beautiful women.
"The streets of Stockholm are literally packed with these gorgeous women, who are as tall as they are luscious".
Even better is that "Scandinavians are world renowned for their friendliness, so there's a good chance that the girl you're eyeing is actually a sweet and down to earth person".
The only US city that makes the list is third placed New York.
If you want to visit Buenos Aires, Argentina which is fourth on the list 'ask the most beautiful woman, that you have ever seen in your life, to teach you the tango' the Travelers Digest suggests.
Although Venezuela and Colombia have provided the largest number of "Miss Universe", it is in the streets of Buenos Aires where the landscape of beauty is daunting.
Number five is Varna in Bulgaria where the country's gorgeous Black Sea Coast 'becomes jam-packed with sunbathing beauties' in the summer. Travelers Digest named Tel Aviv, Israel, as a city with the seventh some very beautiful women in the world.
In eight place is the Dutch capital Amsterdam is a must visit for beautiful women according to Travelers Digest. The list was rounded out with Seoul in South Korea taking ninth spot and Montreal, Canada at
Best looking women cities: Kiev, Ukraine; Stockholm, Sweden; New York, US; Buenos Aires, Argentina; Varna, Bulgaria; Moscow, Russia; Tel Aviv, Israel; Amsterdam, Holland; Seoul, South Korea and Montreal, Canada.