US urges Argentina to normalize relations with international financial community
Friday, July 27th 2012 - 05:50 UTC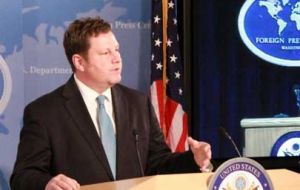 US Department of State Assistant Secretary for Public Affairs Mike Hammer urged the Argentine Government to normalize its relations with the international financial community and confirmed President Obama's administration intention of having "the best possible relations" with Argentina.
During a video conference in Washington to which Ambito Financiero and The Buenos Aires Herald had access, Hammer said the US is conducting a close follow-up of the latest measures taken by President Cristina Fernandez' administration such as the limits imposed to multinational companies for transferring revenues overseas and the recent oil company nationalization.
"It is important for Argentina to promote the foreign investment, so that both nations can move forward on their mutual interests", said Hammer insisting that the US "has already urged the Argentine government to meet its international obligations, and normalize its relations with the global financial community."
Likewise, Hammer highlighted that the intentions of the Obama administration toward Argentina are "to have the best possible relations."
Despite criticism of Hammer, according to the UN Economic Commission for Latin America and the Caribbean, direct investment by US firms in Argentina has increased in recent years. In 2010 it increased by 19.3%, while the figures for 2011 have not been released yet.
Ambito Financiero and The Buenos Aires Herald point out that the current situation is to be seen on a background of cross fire over trade barriers between the two countries with the US deciding to temporarily suspend trade benefits granted to Argentina as part of its claims in favour of two US companies for more than 300 million dollars after having received favourable rulings at the International Centre for Settlement of Investment Disputes (ICSID).
The US measures went as far as suspending Argentina from the Generalized System of Preferences (GSP), which exempts developing countries from import duties on thousands of products.
However tension mounted even more when both countries accused each other of protectionism. First was the US who urged Argentina to "immediately" lift trade barriers, which Washington described as "restrictive and unclear".
The Argentine government responded filing a complaint with the World Trade Organization (WTO) due to the "years of delay" by the United States to allow imports of Argentine beef and lemons.