Mujica forecasts Venezuela will rapidly become Uruguay's third trade partner
Saturday, July 28th 2012 - 02:12 UTC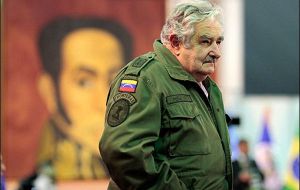 Uruguayan president Jose Mujica strongly defended the incorporation of Venezuela to Mercosur and forecasted that in a short time the country will become Uruguay's third trade associate, behind China and Brazil.
Although underlining the importance of Argentina for the Uruguayan economy overall, Mujica said that it is inevitable that it will displaced by Venezuela.
"Our third trade partner will be Venezuela, you can bet on that, because of its purchasing power and because history tells us we must move that way" insisted the Uruguayan leader.
Speaking in his daily broadcast Mujica said Venezuela will join Mercosur next 31 July despite the controversial procedure for its incorporation (with the absence of suspended Paraguay): "let's be clear, I have no doubts because there are no juridical irregularities".
Mujica went on to say that since 2001 and despite all difficulties "trade with Venezuela has expanded annually at over 30%. There is no other country in our region with which we complement so well" and added "let us not forget we sell them beef dearer than to Europe".
"Is not that Venezuela is joining Mercosur: it's Mercosur that is joining Venezuela, or don't we realize that Venezuela is a strategic country for Latinamerica? Forget about Chavez, time takes care of political leaders and regimes, but countries remain".
He went on to say that 20% of the oil Uruguay imports comes from Venezuela, "can we be so short sighted in today's world as to ignore this emporium of energy just round the corner?
Mujica recalled when he was Minister of Agriculture and met with German politicians: "would they accept Russia into the European Union if they came knocking on the door? Of course because the country is rich in oil, gas and grains".
"I insist Venezuela will become crucial in the mid and long term for Uruguay's trade" and that country is also a gateway to the Caribbean. "There are some products such as apples and broilers we can only sell to Venezuela".
Finally regarding the standing Paraguayan position contrary to Venezuela's full membership, Mujica anticipated "they are going to love it more than us because they need them more than us, it's a question of trade interests".